ONE OF THE WACKIEST BIKES built in the 1970s, the Fantic Chopper was an
ideal mount for those aspiring to the wild world of the movie Easy Rider. But where the actors enjoyed the effortless throb of a large-capacity Harley-Davidson V-twin, Fantic riders had to endure the manic wail of a smallcapacity two-stroke engine.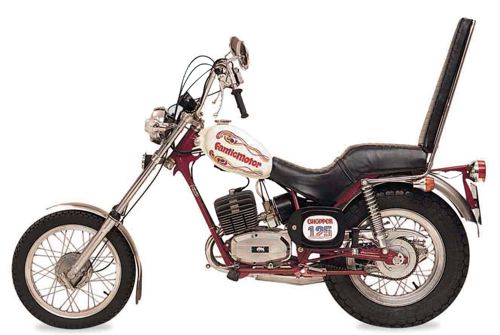 And it must have been embarrassing riding the bike at full speed and then being overtaken by scooters. Surprisingly, the extended forks and weird riding position did not make the Fantic angerous, even if they did make it uncomfortable. Perhaps fortunately, the Chopper was comparatively short-lived and in the 1980s Fantic concentrated instead on building an excellent series of off-road bikes. This is a 1977 model.
| | |
| --- | --- |
| Model: | FANTIC Chopper |
| Capacity: | 123 cc |
| Power output: | 13.2 bhp (6600 rpm) |
| Weight: | 260 lb (118 kg) |
| Top speed: | 65 mph (105 km/h) |
| Country of origin: | Italy |
Specifications FANTIC Chopper motorcycle