The Ford Mustang might have become another esoteric oddball in the footnotes of motoring history, but for the intervention of brash Italian-American Ford product planner Lee Iacocca. When Iacocca first saw this prototype in 1962, his instinctive grasp of America's unfolding demographics cut in immediately.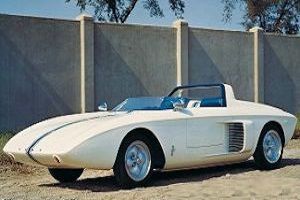 Ford Mustang 1 1962
YEAR REVEALED 1962
PLACE OF ORIGIN Detroit, Michigan, and Culver City, California
HISTORICAL STATUS prototype
ENGINE V4-cylinder, 91ci (1,498cc)
MAXIMUM POWER 109bhp
LAYOUT mid-mounted engine driving the rear wheels
BODYWORK two-door, two-seater roadster
TOP SPEED 115mph (185kph)
NUMBER BUILT two
The market craved a sporty car, not an actual sports car like this. It featured a German Ford V4 engine mounted behind the driver and passenger, driving the rear wheels. In fact, it was the entire front-wheel drive, four-speed powerpack of the Ford Taunus 12M transferred to the back and cooled by radiators on each side, fed by two large air intakes.
Suspension was by wishbones and coil springs, and there were front disc brakes. The compact, dagger-shaped body featured an integrated rollover bar and retractable headlights. The seats were fixed as part of the structure, with steering wheel and pedals adjustable to suit any driver. The aluminum-skinned car was built by race-car preparers Troutman & Barnes, and named after the eponymous P-51 fighter plane.
Seeking credibility among enthusiasts, the Ford Mustang made its public debut at the Watkins Glen race meeting in October 1962; top drivers Dan Gurney and Stirling Moss demonstrated it with bravura. However, by 1963, a Mustang II concept had taken shape, adapted from the conventional Ford Falcon. Here was the true predecessor to the "real" Mustang of 1964-the hottest thing to hit mainstream US motoring in a generation.