Goldenrod still the world's fastest conventional "car" was built by Californian brothers Bill and Bob Summers who dreamed of an assault on the World land speed record.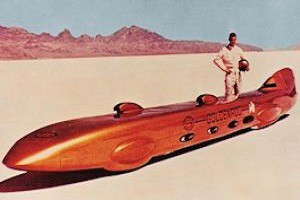 Goldenrod 1965
YEAR REVEALED 1965
PLACE OF ORIGIN Ontario, California
HISTORICAL STATUS speed record car
ENGINE four x V8-cylinder, 421ci (6,900cc)
MAXIMUM POWER 2,400bhp
LAYOUT four engines mounted in a row, driving all four wheels
BODYWORK single-canopy, single-seater racer
TOP SPEED 409mph (658kph)
NUMBER BUILT one
Bob built a scale model and mapped out its layout to demonstrate how his car could become the fastest vehicle on earth. Chrysler was so impressed it agreed to provide the engines, and Goldenrod was born. Goldenrod was essentially a four-wheel drive, 32ft (10m) long javelin.
The four fuel-injected Chrysler V8 engines were set in pairs in the chassis, mounted back-to-back. The front pair drove the front wheels and rear pair the rear ones, with a mechanical coupling to synchronize the 2,400bhp power output.
Bob Summers calculated that Goldenrod's weight would keep its aluminum wheels and Firestone tires glued to the white surface of Bonneville Salt Flats, Utah. Goldenrod took the record for a wheel-driven car from Britain's Donald Campbell, returning it to the US for the first time since 1928. In 1991, Al Teague's "Spirit of 76" slightly bettered the speed for a piston-engined car, but that was supercharged.