Meet the "Ultimate All-Terrain Sports Coupé." There had never been such a car until Glenfrome Engineering revealed its Facet, and proved off-road driving and Lamborghini-esque styling could mix.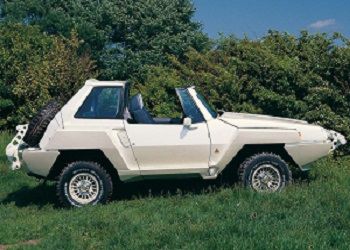 Glenfrome Facet 1983
YEAR REVEALED 1983
PLACE OF ORIGIN Solihull, West Midlands, and Bristol, UK
HISTORICAL STATUS production car
ENGINE V8-cylinder, 215ci (3,528cc)
MAXIMUM POWER 132bhp
LAYOUT front-mounted engine driving all four wheels
BODYWORK two-door, four-seater coupé
TOP SPEED unknown
NUMBER BUILT approximately 30
The running gear was a standard Range Rover chassis, on which Glenfrome's coachbuilders created the chiseled-looking body. Windshield and door frames were aluminum castings, a tubular steel rollcage enclosed the four-seater cabin, and body panels were fiberglass.
A neat touch was a lift-out Targa roof panel that slid into a storage compartment under the sloping, high-set hood; like the retractable rear window, this was power-operated. Rugged crash bars front and rear would ward off obstacles.
The design work came from Dennis Adams (normally associated with Marcos sports cars), and the manufacturer was a specialist in Range Rover conversions. The Facet was aimed squarely at Middle East nobility, where automotive one-upmanship knew no bounds.
Glenfrome was among numerous British companies offering bespoke cars based on Range Rovers, loved for their desert capability, and the Facet was more extreme than most. Among myriad options, owners could request a handy winch discreetly concealed behind the front number plate. Prices were vast, but an agreement with American Express meant the car could be paid for on "plastic." Glenfrome converted 400 cars a year at one point, but was bankrupt by 1986.