Italdesign's Aztec 1988 show car was built around a gloriously pointless feature: twin cockpits for driver and passenger.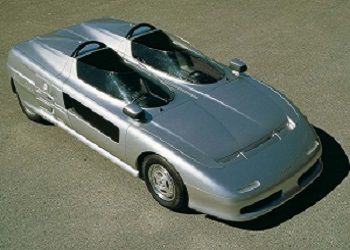 Italdesign Aztec 1988
YEAR REVEALED 1988
PLACE OF ORIGIN Turin, Italy
HISTORICAL STATUS prototype / production car
ENGINE five-cylinder, 136ci (2,226cc)
MAXIMUM POWER 197 / 250bhp
LAYOUT mid-mounted engine driving all four wheels
BODYWORK two-door/two-canopy, two-seater roadster
TOP SPEED 150mph (241kph) (production model)
NUMBER BUILT 1 / 50
Like the Asgard people-carrier and the Aspid coupé, it used mid-mounted Audi's turbocharged five-cylinder engines, transversely mounted, and Quattro four-wheel drive. But the Aztec's mad appeal of driver and passenger independently experiencing the rush of air was irresistible.
Spoken communication was only possible through headsets, although the twin cockpits were linked at elbow level so the center console could be shared. Italdesign driving force Giorgetto Giugiaro, normally a purveyor of neat, sensible styling for family cars like the Volkswagen Golf/Rabbit and Fiat Panda, gave the Aztec weird "service center" panels on both flanks around the rear wheelarch.
They included coded door locks, controls to operate the inbuilt hydraulic jacks, digital engine fluid monitors, and separate compartments containing flashlight, fire extinguisher, and gas flap. Was this arresting automotive another flash-in-the-pan? So it seemed, until Japanese entrepreneurs identified a market for a real Aztec, and acquired production rights.
In 1991, a limited series of 50 faithful replicas was built. The bodies were made in Italy, and the cars taken to Germany to be fitted with Audi engines tuned by specialist Mayer MTM, before heading for Japan. Such unusual fun was hugely costly-each model was priced at $225,000. Still, Giorgetto Giugiaro signed each car before delivery.