Austin Seven 1922
Herbert Austin quit Wolseley in 1905 to set up his own company, called Austin, and by the early 1920s it was one of Britain's most important carmakers with 22,000 employees. But it was not all plain sailing. The company struggled after World War I, as the inevitable financial downturn bit hard, and Austin's stately 20hp models suffered when tax penalties were levied on them in Britain's "Motor Car Act" of 1920.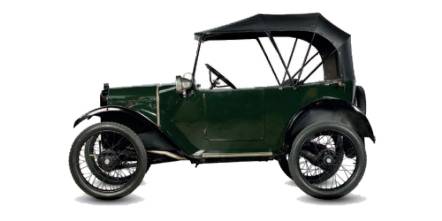 YEAR REVEALED 1922
PLACE OF ORIGIN Birmingham, UK
HISTORICAL STATUS production car
ENGINE four-cylinder, 42ci (696cc)
MAXIMUM POWER 10bhp
LAYOUT front-mounted engine driving the rear wheels
BODYWORK two-door, four-seater tourer
TOP SPEED 40mph (64kph)
NUMBER BUILT 302,000
Turnover fell and Austin's company briefly operated under administrators. Clearly a big idea was needed. Salvation came along when Austin proposed to "motorize the common man" with a very small, economical car. He might have been inspired by the many cheap-to-buy "cyclecars" being offered by enterprising French companies, but this type of flimsy device wasn't quite what he had in mind. Instead, he wanted to make a car in miniature, with none of the compromises of using motorcycle parts.
Yet, it would have to sell for about the same as a motorbike-sidecar combination. Despite scorn from his co-directors, Austin worked with a talented 18-year-old draftsman called Stanley Edge. Together they created what became the Austin Seven. Unveiled in 1922 at £165, the Austin Seven offered four seats, a four-cylinder engine, and four-wheel brakes. The Seven instantly became the world's leading small car. Rights were sold worldwide and it was brazenly copied in Japan for the first Datsun.