Vauxhall KN 1909
Before World War II, Vauxhall, still very much with us today as General Motors' British subsidiary, was as eager as any maker of sports cars to prove its products on the racetrack. At the newly opened Brooklands circuit in Surrey, the company wanted to show that a relatively "ordinary" car could reach the magic figure of 161kph (100mph). The company's tiny Experimental Shop team transformed the 20hp A-type, a typical medium-sized car of the day, into a speed machine.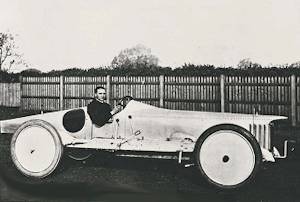 YEAR REVEALED 1909
PLACE OF ORIGIN Luton, Bedfordshire, UK
HISTORICAL STATUS speed record car
ENGINE four-cylinder, 186ci (3,053cc)
MAXIMUM POWER 20bhp
LAYOUT front-mounted engine driving the rear wheels
BODYWORK single-seater racer
TOP SPEED 100mph (161kph)
NUMBER BUILT one
They came up with the KN, designed to cheat the wind with its tube body and disc wheels. A radiator mounted sideways-on was kept cool via plentiful louvers in the hood, although the hot air that blew back into the cockpit was no fun for the driver.
Tests were promising and, after much modification, the Vauxhall team turned up at Brooklands in October 1910 for their assault on "the ton" (100mph). Vauxhall works manager AJ Hancock was at the wheel. The best they could manage was 99.5mph (160kph) until it was suggested that draining the gearbox and rear axle of all but a splash of oil, would reduce weight.
The happy result was an official 1-kilometer (0.62-mile) speed of 100.08mph (161.06kph). As a niche manufacturer, Vauxhall was making around 200 cars a year at the time, and the KN paved the way for the launch of its Prince Henry and 30/98 sports cars in subsequent years. However, after General Motors took over in 1925, the era of handmade thoroughbreds and sporting success soon gave way to mass-production.