The concept of a new car "bristling" with the latest technology is often bandied about, but few new models carried as much all-round innovation at their debut as Lancia's sporty Lambda. It broke new ground in its engine, its suspension, and its overall construction. Vincenzo Lancia was inspired by shipbuilding principles for the Lambda concept.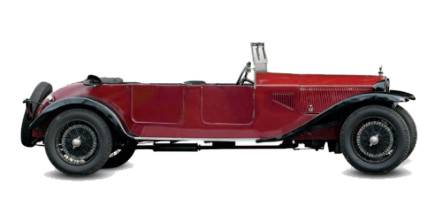 Lancia Lambda 1922
YEAR REVEALED 1922
PLACE OF ORIGIN Turin, Italy
HISTORICAL STATUS production car
ENGINE V4-cylinder, 129ci (2,121cc)
MAXIMUM POWER 49bhp
LAYOUT front-mounted engine driving the rear wheels
BODYWORK four-door, five-seater tourer
TOP SPEED 70mph (113kph)
NUMBER BUILT approximately 11,200
From a structural viewpoint, it was the first car to do away with a separate chassis frame altogether. Its rigid monocoque unit was a pressed-steel skeleton forming the chassis, scuttle, lower body, and rear end, while the engine was carried in a cradle of riveted crossmembers and light tubes. Holes were cut in non-load-bearing areas to save weight. The Lambda's single overhead-camshaft engine was the first to successfully enter mass-production, its aluminum pistons and block being a very bold move for the Italian company. But the independent front suspension was a breakthrough, too.
The combination of excellent rigidity in the body, the carefully weighted front end, and the compactness of the power unit, gave the Lambda new standards of roadholding. It made contemporary alternatives seem positively unwieldy by comparison. Although its integral construction meant buyers had to accept the factory's own style of coachwork, a "bare chassis" version was developed in 1925. A later sedan option was offered in the form of an enormous, detachable hardtop.