A two-wheeled car was what the Monotrace purported to be, although, with its "stabilizer" wheels either side of its narrow, tandem two-seater body (to stop it falling over at traffic lights), it was hardly a claim that stands up. The Monotrace was made between 1925 and 1928. Its single-cylinder, 31ci (510cc) engine was concealed in its tail, driving the rear-wheel via chains through a motorbike gearbox.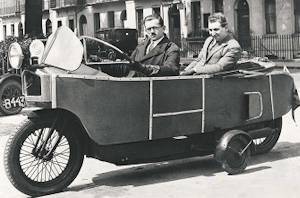 Monotrace 1925
YEAR REVEALED 1925
PLACE OF ORIGIN St Etienne, Loire, France
HISTORICAL STATUS production car
ENGINE single-cylinder, 31ci (510cc)
MAXIMUM POWER unknown
LAYOUT rear-mounted engine driving the rear wheel
BODYWORK two-seater tourer
TOP SPEED unknown
NUMBER BUILT approximately 300
Meanwhile, the driver, sitting behind a tiny windshield, steered using an enormous hybrid of a steering wheel and motorbike handlebars. This strange design was typical of the sort of contraption French manufacturers produced before World War II, but actually hailed from Germany where it was devised by the Mauser armaments factory as the Einspur-Auto-a single-track "car".
Although it had its public unveiling at the Berlin motor show in 1921, the car wasn't on sale for another two years. On its original iteration, the stabilizer wheels were retractable, but on the Monotrace they were on outriggers that could be raised or lowered from the cockpit using a lever, and came complete with their own tiny fenders.
However, what's especially intriguing in the photograph you see here is that this bizarre machine was photographed in Wales in the 1930s-in front of Bangor Hotel-with British number plates. The driver looks earnest enough, but the passenger has an expression of shyness mixed with embarrassment.