Bubble cars were a European fad in the 1950s. These tiny, cramped contraptions offered minimal motoring and a meager thirst for fuel in the guise of a brand new car.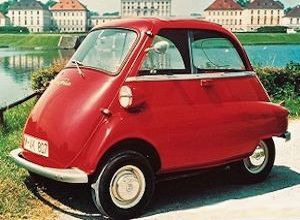 Isetta 1953
YEAR REVEALED 1953
PLACE OF ORIGIN Milan, Italy, and Munich, Germany
HISTORICAL STATUS production car
ENGINE flat-two-cylinder, 14ci (236cc) and single-cylinder, 15–18ci (247–298cc)
MAXIMUM POWER 13bhp (298cc/18ci)
LAYOUT rear-mounted engine driving the rear wheels
BODYWORK single-door, four-seater sedan
TOP SPEED 50mph (80kph)
NUMBER BUILT 197,575
The nickname came from the cars' commonly characteristic ovular shape. The Isetta set the trend for bubble cars, but it was later followed by other makers, including Fuldamobil, Heinkel, Messerschmitt, and Scootacar. The concept came from an Italian refrigerator manufacturer called Isotherm.
The main idea was for a "cabin scooter," a blend of the thrift of Italy's Vespa, but with weather protection and accommodation for a young family. It was devised as a four-wheeler, but the rear wheels were just 20in (51cm) apart. The only door was at the front, where the entire snub-fronted nose swung outward, taking the cleverly articulated steering column with it.
The tiny, twin-cylinder engine was at the back, while the driver sat on the left, to counterbalance it. Italian drivers were none too keen on the Iso Isetta, and the company stopped making it after two years. But BMW took out a licence to make the car in Munich with larger capacity engines. With later improvements, it proved amazingly successful among German buyers. The little car is widely said to have "saved" BMW from financial ruin.