By the early 1950s, Jaguar exuded excitement on all fronts: its XK engine was acclaimed; it built the most glamorous sedans available; and the XK120 sports car was world-famous on road and track.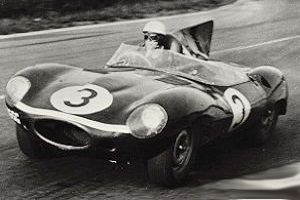 Jaguar D Type 1954
YEAR REVEALED 1954
PLACE OF ORIGIN Coventry, Warwickshire, UK
HISTORICAL STATUS sports-racing car
ENGINE six-cylinder, 210ci (3,442cc)
MAXIMUM POWER 250bhp
LAYOUT front-mounted engine driving the rear wheels
BODYWORK two-door, two-seater roadster
TOP SPEED 175mph (282kph)
NUMBER BUILT 71
Still, it was apparent to company founder William Lyons that a production car could no longer compete in the highest motorsport echelons. So Jaguar's racing department devised a special-bodied XK120, the XK120C or C-type (for Competition). It twice won Le Mans and, furthermore, proved the effectiveness of disc brakes. The first three World Champion drivers, Farina, Fangio, and Ascari, all bought one to use as road cars.
Jaguar was interested in really conquering Le Mans-anything else was a bonus-and pursued that determinedly in 1954 with its first pure racing car, the D-type. It featured purposedesigned monocoque construction, all-round disc brakes (Jaguar and Dunlop refined them together), and bodywork designed by aerodynamicist Malcolm Sayer. The stabilizing fin behind the driver's head was a D-type hallmark.
On its 1954 Le Mans debut, a D-type finished a close second to a Ferrari with a much larger engine. Thus proven in public, Jaguar offered it to privateer drivers-it cost £1,895, before tax-and soon D-types were winning races worldwide. The pinnacle of its career was three successive wins at Le Mans, 1955-57. In 1957, five cars entered and they finished 1-2-3-4-6-one of the most remarkable Le Mans performances ever.