Whimsical concepts are a Japanese thing. The biennial Tokyo Motor Show is usually crammed with them-the event is often more like a design student's degree exhibition than a serious prophesy of the automotive future.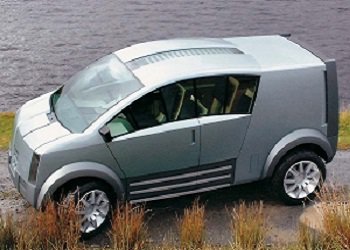 Isuzu Zen 2001
YEAR REVEALED 2001
PLACE OF ORIGIN Birmingham, West Midlands, UK, and Tokyo, Japan
HISTORICAL STATUS prototype
ENGINE V6-cylinder, 183ci (2,999cc) diesel
MAXIMUM POWER unknown
LAYOUT front-mounted engine driving all four wheels
BODYWORK two-door, four-seater station wagon
TOP SPEED unknown
NUMBER BUILT one
Isuzu's ZEN is a prime example of this left-field ideas forum. The only thing is, it wasn't created in Japan at all, but at Isuzu's European design center in the UK. The premise was to package some tranquil Japanese-style living space within the proportions of a typical delivery van.
Why any driver might want this wasn't clear, but Isuzu talked of it as mobile office space or, for crowded Japanese cities where offspring often live at home with their parents, an annex-on-wheels for meditation, tea, even passion.
Chief designer Geoffrey Gardner trawled the modern art collection of London's Tate Modern gallery for inspiration to mix with Zen Buddhist principles of harmony, respect, and purity. Viewed side-on, the nose section housed the turbodiesel engine; the passenger compartment resembled a radiating Japanese paper fan; and the cargo cube was tacked on the end.
The "Transformer"-style interior converted into a serene traditional Japanese tearoom, with bamboo flooring and tatami woven mats, by folding the steering wheel and the silk-covered, aluminum-and-wood front seats away into the dashboard. Other signature touches included the opaque roof light and lower tailgate panel sliding upwards to reveal a view of the outdoors.