This car's engine is based on Ford's V8, but with almost every component, including the block, modified or re-manufactured to give 800 bhp. The first impression of the Koenigsegg CC is its dynamic stance and futuristic, aggressive attitude.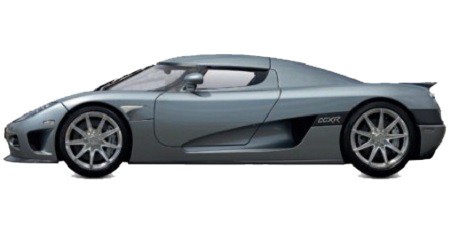 Koenigsegg CCX R 2006
Origin Sweden
Engine 4,719 cc, V8
Top speed 250 mph (402 km/h)
It appears amazingly low and broad, with the cockpit-like semicircular windscreen and organically shaped rear hood as key features. The smooth and polished body is gently curved, almost simplistic; a fully integrated design. Lines and surfaces appear thoroughbred and slippery, projecting an image of velocity onto the machine. This design shouts in a clear and universal language: "I travel at extreme speeds".
Machined For Speed
Koenigsegg's design seeks to give an interpretation of strength and flowing motion. The body of a Koenigsegg is formed for one ultimate purpose; Superior performance. Its beauty is the beauty of speed itself. The surfaces are shaped to perfectly aerodynamic, an appearance that does not deceive.
All aspects of this machine serve its one fundamental objective. Both the body and chassis of a Koenigsegg are made of extremely lightweight carbon fibre composite, reinforced with Kevlar and aluminium honeycomb. Its race-bred suspension system brings the driver in control of all movement, even under the toughest racing conditions.
Overview
Koenigsegg manufactures exclusive super cars for a select elite of enthusiasts. Spaceage materials and uncompromising quality both in finish and function make these cars among the very best in the automotive history. They reach higher top speeds and are more powerful than any other series-produced car today.
Two models has currently been in production; the CC8S, and the magnificent 806 hp CCR, which still holds the Guinness World Record for the most powerful streetcar. Both Koenigsegg models are built to excel on the road or racetrack, yet are still highly comfortable for long distance travelling.
A Machine For Safe Driving
Koenigsegg creates each car specifically for each costumer. They are individual pieces of art. Leather contrasted with futuristic controls and refined surfaces enclose the occupants. It is an environment for adventure. The Koenigsegg hardtop is stored under the front bonnet during roofless driving. Crash-tests have verified that in terms of safety, a Koenigsegg is a truly Swedish car.