The beginnings of the best-selling single car design ever-21,529,464 were bought by the time manufacture ended in 2003-go further back than September 1939, when the car in its final form was revealed. The German "people's car" (volkswagen) project was first announced at the Berlin motor show in 1934, after the Nazi government-backed German Automobile Industry Association officially engaged the Porsche design consultancy to create it.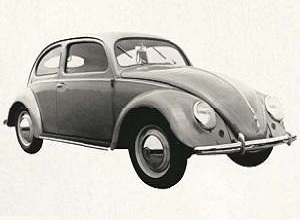 KDF-Wagen/Volkswagen 1939
YEAR REVEALED 1939
PLACE OF ORIGIN Hanover, Germany
HISTORICAL STATUS production-ready car
ENGINE four-cylinder, 60ci (984cc)
MAXIMUM POWER 24bhp
LAYOUT rear-mounted engine driving the rear wheels
BODYWORK two-door four-seater saloon
TOP SPEED 62mph (100kph)
NUMBER BUILT 630 to 1,944 (none sold to the public)
Ferdinand Porsche drew on designs for rear-engined economy cars he'd undertaken for Zundapp and NSU (denying accusations of intellectual theft from Czechoslovakia's Tatra). These featured semi-trailing arm suspension and an air-cooled, flat-four engine mounted in the tail of the vehicle. In 1937, following close collaboration with the German government on the design parameters, a batch of 30 prototypes, built by Mercedes-Benz, began 1.8 million miles (2.9 million km) of testing on Black Forest country roads and the new autobahns.
In 1938, the production plant, 50 miles (80km) east of Hanover, was inaugurated, and a Government-scheme called "Kraft durch Freude" (Strength Through Joy) offered attractive subscription terms for a new Volkswagen. It attracted 336,000 "savers," none of whom ultimately received their cars. No sooner had the Volkswagen been revealed, Germany was at war and the factory was used to make military vehicles. It was heavily bombed in 1944, but reconstructed by Allied Forces in 1945.