Wilhelm Maybach partnered Gottlieb Daimler in designing some of the very earliest cars, but in 1907 he went into business with Daimler's son Karl. Their speciality was building engines for Count Zeppelin's airships. After the Treaty of Versailles (which banned German companies from making aero engines), Karl turned to producing car engines.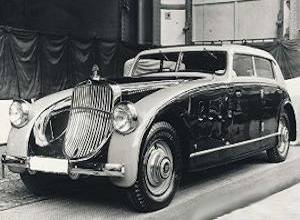 Maybach DS8 Zeppelin 1931
YEAR REVEALED 1931
PLACE OF ORIGIN Friedrichschafen, Germany
HISTORICAL STATUS production car
ENGINE V12-cylinder, 487ci (7,978cc)
MAXIMUM POWER 200bhp
LAYOUT front-mounted engine driving the rear wheels
BODYWORK five- and seven-seater sedans and limousines, two-seater roadster
TOP SPEED 103mph (166kph)
NUMBER BUILT approximately 175
Customers proved elusive however, so in 1921, the retired Maybach built his own car. They were acclaimed as "German Rolls-Royces." In 1928, Maybach came up with the huge and impressive DS chassis, plus a magnificent V12 engine to power it. In 1930, it was renamed the Maybach Zeppelin in honor of the pioneering aviator, just before the ultimate edition, the DS8, was launched.
To give an idea of its scale, a Ford Fiesta could park within its 12ft (3.7m) wheelbase, the engine was fronted by a radiator 3ft (90cm) wide-both residing under a 7ft- (2m-) long hood-and the gearbox was an eight-speeder. Buyers commissioned custom-made bodies from their favored coachbuilders-one car cost the same as five large homes. Between 1921 and 1941 about 2,000 Maybachs were sold in all. The company made diesel rail engines until 1960, when it was acquired by Mercedes-Benz.