In the grim environment of post-war Britain, raw steel had been rationed by the government. The biggest supplies went to manufacturers who could turn it into exportable goods.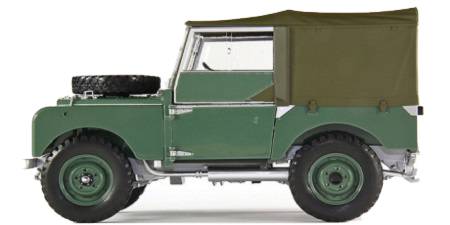 Land Rover Series 1 1948
YEAR REVEALED 1948
PLACE OF ORIGIN Solihull, Warwickshire, UK
HISTORICAL STATUS production car
ENGINE four-cylinder, 97ci (1,595cc)
MAXIMUM POWER 50bhp
LAYOUT front-mounted engine driving all four wheels
BODYWORK two- or four-door seven- or nine-seater utility and station wagon
TOP SPEED 56mph (90kph)
NUMBER BUILT 201,872
Brothers Maurice and Spencer Wilks, who controlled Rover, found a way around this. Maurice had bought a war-surplus Willys Jeep to use on his farm, which gave him an idea: take the Jeep's outstanding off-road qualities and use them in a dual-role, 4×4 vehicle farmers would really value.
The first "Land Rover" prototype was a pick-up/tractor hybrid with its single, central seat, and stark functionality. It had Willys proportions because it actually used a Jeep body frame and axles. The Rover board gave cautious approval in September 1947 and, within a year, pilot production began. The Land Rover's bodywork was made from aluminum-cheap, plentiful, and, critically, unaffected by government restrictions.
It was also light, giving great nimbleness on off-road terrain. Rover car components were used. The 80in (2m) wheelbase was retained, although later extended by 4in (10cm). Early Land Rovers had a four-wheel drive system with no central differential and a freewheel in the front drive to reduce tire scrub.
This was not so good for coming down hills, where the wheels turned at different speeds. In 1950, a dogleg clutch was added to give the driver two- or four-wheel drive. Rover envisaged selling 50 a week as a sideline. Yet, within a year, Land Rovers were outselling Rover cars.