The Dynavia is a fascinating example of futuristic car design from over 60 years ago. But it was also meant to offer big benefits in everyday use, by increasing both performance and fuel consumption. The impetus for the teardrop-shaped fourseater came from Panhard designer Louis Bionier, who set out, in 1944, to prove that such a car could be both stable and utterly practical.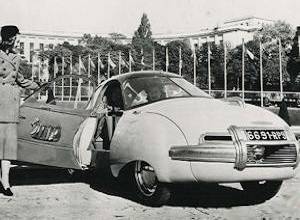 Panhard Dynavia 1948
YEAR REVEALED 1948
PLACE OF ORIGIN Paris, France
HISTORICAL STATUS prototype
ENGINE flat two-cylinder, 37ci (610cc)
MAXIMUM POWER 28bhp
LAYOUT front-mounted engine driving the front wheels
BODYWORK two-door four-seater saloon
TOP SPEED 87mph (140kph)
NUMBER BUILT two
By 1945, he'd made a one-fifthscale model which, under wind tunnel testing undertaken with help from the Institute Aérotechnique de Saint-Cyr, was found to have a phenomenally low drag. The full-size model was slightly worse, but it was still slippery enough to boost the performance of the car, compared to the standard Panhard Dyna it was based on, by over a third.
That meant a top speed of 87mph (140kph), and excellent fuel economy of 45mpg (16km/l). The carefully designed profile was also said to be good at resisting side winds and buffeting while overtaking. Although audacious-looking, the Dynavia was twice overshadowed in 1948, first at the Paris motor show when the Citroën 2CV was the show-stopper, and again in London when the Jaguar XK120 and Morris Minor took the limelight.
Still, one further example was built for a Panhard dealer in Grenoble, and this eventually sold to a private customer who used it on the road until it crashed, and was subsequently scrapped. But Bionier's research was not entirely wasted-the Dynavia had a strong influence on the design of the Panhard Dyna Z unveiled in 1953.