It was 42in (106cm) tall and, at 0.29, its drag coefficient made it highly aerodynamic. Most people thought the Lotus Europa's compressed appearance was madcap, but suspected there must be a good scientific reason.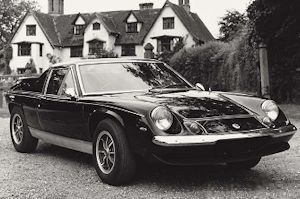 Lotus Europa 1966
YEAR REVEALED 1966
PLACE OF ORIGIN Hethel, Norfolk, UK
HISTORICAL STATUS production car
ENGINE four-cylinder, 90–97ci (1,470–1,588cc)
MAXIMUM POWER 126bhp
LAYOUT mid-mounted engine driving the rear wheels
BODYWORK two-door, two-seater coupé
TOP SPEED 121mph (195kph)
NUMBER BUILT 9,230
They were right. It was the first proper production road car with a mid-mounted engine, bringing the Formula One configuration to the streets. Lotus Europa founder Colin Chapman found a perfect drivetrain in the Renault 16. Although a family hatchback, Chapman realised its 90ci (1,470cc) transverse engine, four-speed transmission, and front-wheel drive package was light and compact enough to install at the center of the Elan's backbone chassis, to achieve that authentic Formula One handling response.
Renault gladly supplied its components and the car was, appropriately, christened Lotus Europe, although quickly changed to Europa for trademark registration reasons. There was only 78bhp on tap, so a top speed of just 95mph (153kph) wasn't surprising. The clutch was heavy, the ride poor.
But the car gripped in corners like nothing else, with light steering and a feeling of perfect balance, partly down to rear suspension by lower wishbones and transverse top links. Europa drivers enjoyed a sunlounger driving position, but the cockpit was claustrophobic because the side windows didn't open and rear vision was awful. Lotus tackled the car's appearance and design, reinvigorating Europa until 1975.