The Jaguar E-type was derived from a racing car, and designed by an aerodynamics expert, not a "stylist." Its stiff chassis and independent suspension gave a smooth ride and brilliant roadholding.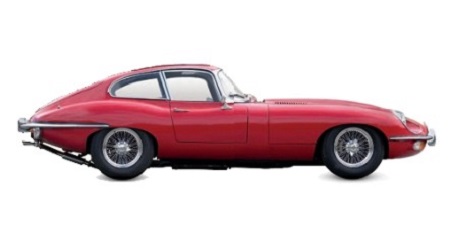 Jaguar E-Type 1961
YEAR REVEALED 1961
PLACE OF ORIGIN Coventry, Warwickshire, UK
HISTORICAL STATUS production car
ENGINE six-cylinder, 231–258ci (3,781–4,235cc)
MAXIMUM POWER 246bhp
LAYOUT front-mounted engine driving the rear wheels
BODYWORK two-seater coupé and roadster and two-plus-two coupé
TOP SPEED 150mph (241kph)
NUMBER BUILT 72,007
It also became a symbol of 1960s freedom. At the 1961 Geneva Motor Show, the E-type emerged from a large wooden packing case as flashbulbs bounced off its aggressive, dart-like profile. Jaguar's streamlining guru Malcolm Sayer had adapted the sleek contours of the D-type racer into a pure road car, adding necessities such as bumpers, a proper hood, and even a practical hatchback third door on the coupé.
Demonstration cars loaned to magazines offered blistering performance from the 231ci (3,781cc) straight-six motor, with 149mph (240kph) attained for the roadster and the magic 150mph (241kph) for the coupé. But the cars are widely known now to have been "doctored"; a 140mph (225kph) maximum speed was nearer reality.
A bigger 258ci (4,235cc) engine from 1964 had more torque, an improved gearbox, better brakes, and comfier seats. Collectors highly rate this Series 1 4.2 E-type. The 1968 Series II was spoiled when its sleek headlight covers were dropped, and US pollution and safety laws necessitated less power and bigger bumpers.The E-type received a late-life image boost in 1971 when Jaguar used the car as a showcase for its V12 engine.