The original MX-5 of 1989, also called the Miata, was a smart mix of all that was best in the classic 1960s sports cars. The difference was that it used cutting-edge technology, from its all-wishbone suspension to its fuel-injected, 16-valve, twin-cam engine.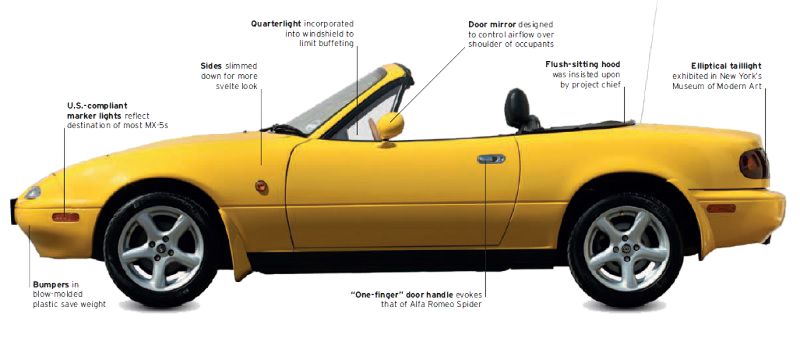 The MX-5 was the product of a rigorous design process carried out in both North America and Japan. The result was a car that was delightful to drive and had no obvious failings, and it soon developed an enthusiastic worldwide fanbase.

THE MX-5 was brought to production by a small team of car-loving engineers, and was aimed above all at the U.S. market. Intended to achieve "the ultimate unity of car and driver," the MX-5 was designed around a rearmounted front engine, to give 50:50 weight distribution.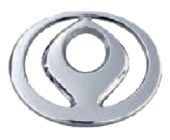 Oriental symbolism
Mazda has tried various logos over the years. This design was said to represent the sun with a flame within. It was introduced in 1991, but replaced with a new stylized "M" symbol in 1997.
The aluminum backbone chassis helped the car give crisp responses when driven. For an affordable, compact sports car, out-and-out performance was not required, which meant that the car could have a small 1,600 cc engine-although an 1,800 cc unit was later available.
| | |
| --- | --- |
| Model | Mazda MX-5, 1989–97 |
| Assembly | Hiroshima, Japan |
| Production | 433,963 |
| Construction | Steel monocoque; aluminum hood |
| Engine | 1,597 cc/1,839 cc, dohc in-line four |
| Power output | 114 bhp at 6,500 rpm (1.6 liter) |
| Transmission | Five-speed manual |
| Suspension | All-around coil-and-wishbone |
| Brakes | Discs front and rear |
| Maximum speed | 121 mph (195 km/h) |
Specifications Mazda MX-5, 1989–97
It also meant the car could be light in weight. Despite sceptics within Mazda, the MX-5 went on to become a huge success, and in its original form lasted until 1997, by which time over 400,000 had been made. Two subsequent evolutions of the car have stayed true to the character of the original.
Eclectic influences
Although the low air intake and pop-up headlights can be seen as a reference to the Lotus Elan, Mazda's designers were equally inspired by Japanese culture. The interior allegedly evoked the inviting simplicity of a tea room, and the rounded hood and front reflected themes from the carved wooden masks used in Noh theatre. This MX-5 California is one of only 300 made in 1995-all in Sunburst Yellow-to mark the MX-5's fifth anniversary.
The exterior
Although the details seem to make reference to past eras, the design of the MX-5 was intended to be timeless. That it still looks fresh is proof of the abilities of its creators, who succeeded in evoking European sports-car heritage without resorting to imitation. Beyond the aesthetics, though, lies intelligent engineering that has resulted in a lightweight, yet strong body.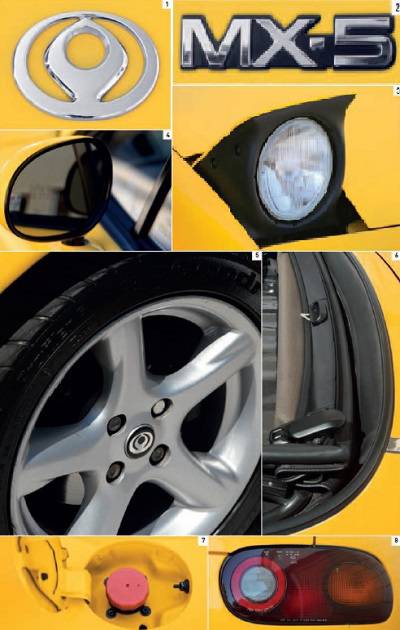 Logo found on later cars, such as this limited-edition California
European logo
Pop-up headlights feature only on MkI
Aerodynamics shape mirror design
Alloy wheels, part of California pack
Slick, weatherproof hood
Fuel filler cap located behind hood
Round motif in taillights hints at 1960s designs
The interior
Mazda's designers tried to make the interior as intimate and inviting as possible, while keeping costs low. A controversial decision was made to design a cockpit that would be cozy and comfortable for average-sized people, but too tight for particularly large people-accepting that this would lose the company some buyers. Existing Mazda fittings were used wherever possible, and door trims were kept simple and flat.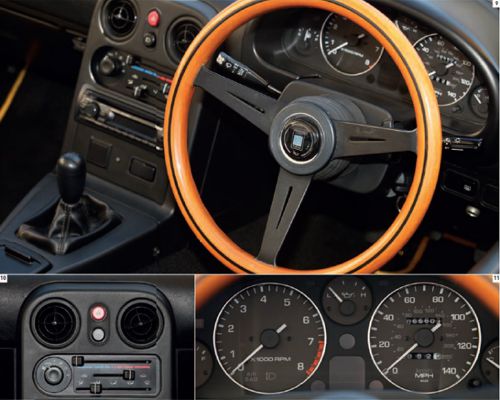 Tight-fitting interior with Nardi steering wheel
Simple controls and round ventilation grilles have a slightly "retro" flavor
Silver dial rims hint at instrumentation of classic British sports cars
Under the hood
The MX-5 uses the same engine as the contemporary Mazda 323, but with retro-look cam covers. The power delivery, however, was changed, and a new silencer system evolved. Recordings of classic exhaust notes were made and their sound waves analyzed, to arrive at a suitably sporty burble. The gearbox, borrowed from the bigger 929, was similarly modified. The flywheel and synchro rings were lightened, the ratios changed, and the throws made shorter.

Mazda MX-5 engine has cam covers that echo those of Jaguar, Lotus, and Alfa Romeo power units
Fuel injection always standard, rather than carburetors
Spare tire is space saver, in trunk with battery