The iconic Smart city car has its genesis in watchmaking rather than the automotive world, because the "father" of Smart was Hungarian-born entrepreneur Nicolas Hayek, creator of the cheap and trendy Swatch timepiece credited with reinvigorating Switzerland's watch industry.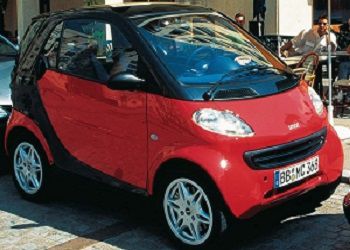 MCC Smart 1998
YEAR REVEALED 1998
PLACE OF ORIGIN Renningen, Germany, and Hambach, France
HISTORICAL STATUS production car
ENGINE three-cylinder, 37–43ci (599–698cc) gas and 49ci (799cc) diesel
MAXIMUM POWER 61bhp
LAYOUT rear-mounted engine driving the rear wheels
BODYWORK three-door coupé and two-door convertible
TOP SPEED 85mph (137kph)
NUMBER BUILT 770,256
Hayek's vision for a "Swatchmobile" featured interchangeable body panels, allowing buyers a wide choice of colors and finishes characteristic of Swatch watches. Original tenets also included pure electric and diesel-electric hybrid power, and a tiny "footprint" so two of the cars would occupy the space of one conventional sedan.
Swatch knew it couldn't build the Smart car alone, however, and Mercedes-Benz became its production partner in the Micro Compact Car project in 1994. The stubby little car was based around what Smart called a Tridion safety cell, an exposed chassis-body frame encircling the cockpit and defining the exterior shape; on to this, the plastic body panels could be attached.
Mercedes-Benz developed a range of turbocharged three-cylinder engines for installation in the rear of the car, and all Smarts would come with a clutch-less transmission that could be driven in fully automatic or manual-shift modes.
The car's stability and effective crumple zones gained the Smart a creditable three-star rating in Euro NCAP crash protection tests. The MCC Smart was unveiled in 1998, but Hayek sold his 19 percent stake in the venture to Mercedes.