The Mercedes-Benz SL class of sports roadsters from the 1960s were known for their supremely elegant styling. Also referred to as W113 within the company, they were manufactured from 1963 to 1971.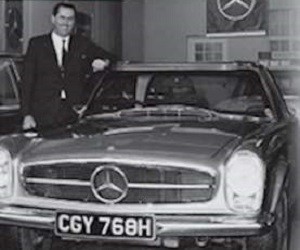 The "pagoda roof" 230SL of 1963 offered good performance and exceptional handling, together with comfort and sophistication. It was followed by the larger-engined 250SL in 1967, and the 280SL in 1968. Both offered more power but retained the SL's signature styling.
THE MERCEDES-BENZ SL was defined by the graceful styling of its optional hardtop. The 230SL, 250SL, and 280SL models had roofs with raised outer edges. Some commentators likened this shape to the roofs of Chinese buildings, and the "pagoda roof" nickname was born.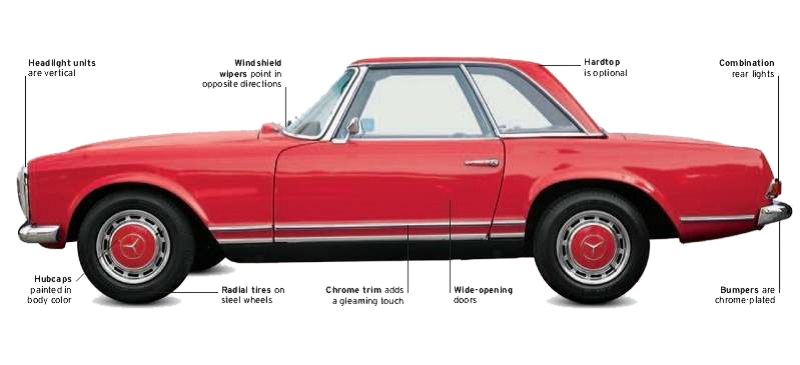 Mercedes-Benz 280SL 1968-71
Model Mercedes-Benz 280SL W113 (1968–71)
Assembly Stuttgart, Germany
Production 23,885
Construction Unitary steel chassis
Engine 2,778cc, sohc straight-six
Power output 170 bhp at 5,750 rpm
Transmission Four-speed automatic;
Suspension Coil spring;
Brakes Discs front and rear;
Maximum speed 124 mph (200 km/h)
Styled by Mercedes' master designer Paul Bracq, the car's compactness and elegance was emphasized by its low build and wide track. The SL carried over its basic structural layout from the 1959 Heckflosse or Fintail sedan. It had a steel body welded to a strong load-bearing floorpan, and a protective cage around the cabin with "crumple zones" at the front and rear that absorbed impact.

The first sports car in the world with this new safety technology, the SL was the safest roadster of its era. The original 2,306 cc, 150 bhp, six-cylinder engine of the SL underwent two revisions. In 1967 it was replaced by a longer-stroke, 2,496 cc engine offering more torque. The fuel tank was enlarged and disc rear brakes were added. The 1968 version, shown here, was fitted with a bigger-bore, 2,778 cc M130 engine, which powered the SL until 1971.
A German alliance
Daimler and Benz were automotive pioneers of the 19th century. The merger of Daimler (the manufacturer of Mercedes cars) and Benz came in 1926. The Mercedes-Benz logo combines the three-pointed star of Daimler with the Benz laurel wreath.