World-renowned for prestige and driving excitement-and as the maker of James Bond's favorite cars-Aston Martin is a prime example of a small British marque: building sports cars against the commercial odds, yet surviving decade after decade thanks to the support of devoted owners and dogged backers.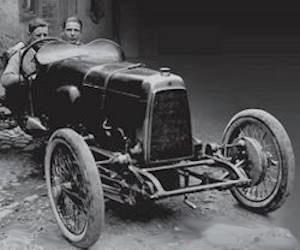 ASTON MARTIN BEGAN in 1913 in a London garage, founded by Robert Bamford and Lionel Martin. Avid drivers, the pair soon built their own sports car using an old Isotta Fraschini chassis and a Coventry-Simplex 1.4-liter engine, and entered it in time-trial events. It performed so strongly in a 1914 hill climb at Aston Clinton, Buckinghamshire, that the machine was christened the Aston Martin, and registered for the road in 1915.
World War I prevented the car from going into production, with Aston and Bamford being called up for military service and the machinery sold to Sopwith, the aircraft manufacturers. The partnership resumed after the war, but it was beset by financial problems. Bamford eventually left in 1920.
Martin, with the help of his wife, Kate, then became a full-fledged car maker. He relaunched the Aston Martin as a simple sports car in 1921, featuring a custom-made, lightweight, 1.5-liter four-cylinder engine. While the car forged a formidable reputation on the race track, its manufacture was slow and chaotic. After several changes of ownership, the company moved to Feltham, Middlesex, in 1926.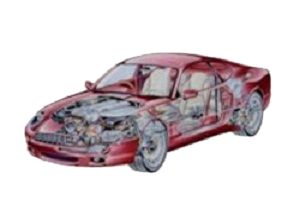 Aston Martin DB7
Introduced in 1993, when Aston Martin and Jaguar were both owned by Ford, the DB7 used the running gear of the Jaguar XJS, although the DB7's styling was very different.
A year later a new 1.5-liter car was designed by the Italian Bertelli brothers, with Augusto overseeing the engineering and Enrico the low-slung bodywork. Despite the near-constant internal upheaval, in the eyes of the public, Aston Martin produced fast, robust, exclusive sports cars that inspired enormous loyalty from their owners. The cars proved well able to cope with the Le Mans 24-hour race in France, making their debut in 1928.
During World War II, Aston Martin made aircraft components. After the war, Aston Martin, almost bankrupt as ever, was bought by David Brown, a Yorkshire industrialist. He had seen it for sale in the classified advertisements of The Times newspaper. Brown also acquired the Lagonda marque and combined the best of both traditions in the DB2 sports car, which married Aston's capable chassis with Lagonda's superb 2.6-liter, six-cylinder engine. The DB2 completed Le Mans in 1949, while still in protoype form.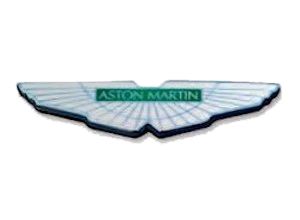 Aston Martin's future as a great marque was sealed at Le Mans in 1950, when Abecassis/Macklin brought a DB2 home fifth overall and won the 3-liter class; Parnell/Brackenbury finished an overall sixth and came second in the 3-liter class. For the 1951 race, the factory team exceded itself, with DB2s finishing third, fifth, and seventh, while two privately entered DB2s came 10th and 11th. Five finishes from five starters in this 24-hour killer was an astounding achievement for a near-standard, two-seater street machine like the DB2. Another highlight saw Aston Martin clinch the World Sports Car Championship constructors' title in 1959 with the DBR1 racing car.
Brown realized that, to be profitable, Aston Martin's expensive, hand-built road cars had to be sumptuous as well as brawny. After Brown took over the Tickford coachbuilding company in 1955, Aston Martin interiors became increasingly luxurious, and the cars' paintwork more lustrous. Modern technology such as disc brakes and overdrive were added, but automatic transmission arrived only in 1959. For the DB4 of 1958, Aston Martin turned to Italian bodywork specialists Carrozzeria Touring, who provided the sleek styling and the method of lightweight construction. But the DB4 retained a steely edge: DB4 GTs and GT Zagatos were fearsome track cars.
Launched in 1964, the DB5 might have seemed just a more powerful and aerodynamic evolution of the DB4, were it not for a starring role as James Bond's car in the 1964 film Goldfinger. This big-screen fame made the Aston Martin marque synonymous with the suave, ruthless secret agent. And the movie mystique endures: An original DB5 film car sold at auction for £2.6 million in 2010. The DB6 of 1965 and DBS of 1967 preceded a brand new V8 engine in 1969, but the golden era ended three years later when David Brown sold the company.
Aston Martin muddled its way through the 1970s and 80s, kept afloat by the wedge-shaped Lagonda limousine, which found favor with Middle Eastern buyers. A firm financial footing came only after Ford's purchase of Aston Martin in 1987.
The new management decided to retain the entirely hand-built Aston Martin, now in its Virage incarnation, alongside a new production-line model, called the DB7, which would be smaller and cheaper. The DB7, which used some Jaguar components, was launched in 1993. It proved highly popular, as has its DB9 successor (there was no DB8), which was introduced in 2003.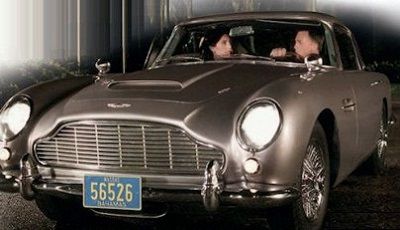 Licence to thrill Since 1964, Aston Martins have featured alongside 007 in many James Bond films. Most recently the DBS V12 appeared in Casino Royale (2006), shown here, and Quantum of Solace (2008).
Aston decided next to confront the Porsche 911 with its own compact sports car. It built an all-new assembly plant in Gaydon, Warwickshire-the firm's first purpose-built home-to make the highly acclaimed V8 Vantage, which reached eager fans in 2005. In 2007 Ford sold Aston Martin to a Kuwaiti-funded consortium led by David Richards, founder of rally team Prodrive. Even before this change, Aston Martin had returned to the world of motor sport.
Consecutive wins at Le Mans in the GT1 class in 2007 and 2008 were followed by a fourth place overall at the 2009 event with a new LMP1-class car-the fastest gas car in the field. In 2009 the V12 Vantage GT claimed victory in its class at the Nürburgring 24-hour race on its competitive debut. In 2009, showing pragmatism rarely seen under previous owners, Aston Martin unveiled the Cygnet city car, a joint venture with Toyota.
This new addition to the Aston Martin range gives the owners of today's Vantage, DB9, DBS, Rapide, or One-77 models a matching urban runabout. It also helps the company meet legal obligations for car manufacturers to reduce average fuel consumption and missions in their ranges.