Carmakers have long shunned the idea of offering three-wheeled cars to their customers. Motorcycle manufacturers never promote anything that detracts from pure, two-wheeled excitement.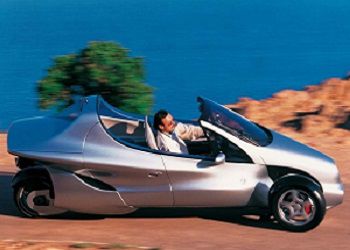 Mercedes Benz F300 Life Jet 1997
YEAR REVEALED 1997
PLACE OF ORIGIN Stuttgart, Germany
HISTORICAL STATUS prototype
ENGINE four-cylinder, 98ci (1,598cc)
MAXIMUM POWER 102bhp
LAYOUT rear-mounted engine driving the rear wheel
BODYWORK two-canopy-door, two-seater coupé
TOP SPEED 135mph (217kph)
NUMBER BUILT one
But for flights of creative fantasy, three-wheeled machines mixing car and bike get plenty of attention, and this one from Mercedes-Benz packed a real technological punch with its Active Tilt Control (ATC) system.
Using carefully placed sensors, a computer could calculate the tilt of the tandem two-seater body as the Life-Jet entered and progressed through a bend. Using this instant feedback, optimum control could be exerted on the springs by the hydraulic system to shift the center of gravity and ensure it wouldn't overturn.
At very high speeds, minimum body roll would maintain stability, but the set-up would "relax" at lower speeds to let the cockpit lean over to a maximum 30 degrees. ATC would permit a g-force of 0.9, pretty exhilarating for a typical car driver-no helmet or leathers were required, the seats had belts, and air-conditioning was included.
The aluminum chassis weighed just 196lb (89kg) while the bodyshell and vertically opening front-hinged doors were aircraftinspired. In good weather, the two roof sections could be removed and stowed in the boot.
The Mercedes A-Class engine behind the passengers drove the single rear wheel through a five-speed manual gearbox. A sensor was added to automatically turn on the headlights in ambient light conditions.