Since the 1950s, Mercedes-Benz cars had tended toward costliness, but the upside for buyers-aside from fastidious build quality-was a reassuring cocktail of safety and innovation.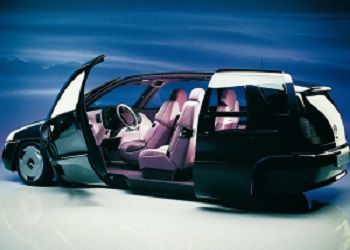 Mercedes Benz F-100 1991
YEAR REVEALED 1991
PLACE OF ORIGIN Stuttgart, Germany
HISTORICAL STATUS prototype
ENGINE six-cylinder, 158ci (2,597cc)
MAXIMUM POWER 194bhp
LAYOUT front-mounted engine driving the front wheels
BODYWORK four-door, five-seater station wagon
TOP SPEED unknown
NUMBER BUILT one
The F 100 research car provided all of this and more, with most of the nascent ideas packed into it, now adopted by mainstream models. It could never be described as pretty, but even its people-carrier profile is now commonplace.
Its only dead-end feature was the central driving position, for which Mercedes had provided immense "exploding" doors that took a chunk of the floor away when they opened. The F 100 was front-wheel drivea Merc first-and its key structural feature was its sandwich floor and sloping bulkhead firewall shape, which would force the engine underneath the passenger compartment in a front-end collision.
This arrangement appeared on the A-Class six years later. But in the area of safety the F 100 was a true standard-bearer of future trends. The doors were opened by credit-type card that readied the driving position to the driver's pre-set ideal. The steering wheel featured voice activation and a keypad.
The F 100 used a frontal radar-based system to maintain a safe distance from the vehicle in front; under the Distronic name, this arrived on the S-Class, in 1998. A pop-up video camera relaying its view to the in-dash screen for easy reversing hasn't featured yet, but rain-sensing windshield wipers and electronic tire pressure monitors arrived on Mercedes cars in 1995 and 1999 respectively.