Nash Motors had been mulling a really small "sub-compact" car since 1945, when it asked freelance Detroit designer William Flajole to work up some proposals.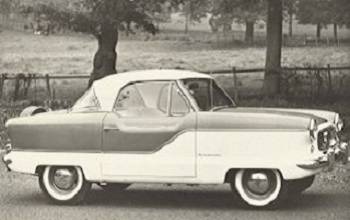 Nash, Austin Metropolitan 1954
YEAR REVEALED 1954
PLACE OF ORIGIN Kenosha, Wisconsin, and Birmingham, UK
HISTORICAL STATUS production car
ENGINE four-cylinder, 73–91ci (1,200–1,489cc)
MAXIMUM POWER 47bhp
LAYOUT front-mounted engine driving the rear wheels
BODYWORK two-door, two-seater convertible and hardtop
TOP SPEED 75mph (121kph) (1,489cc)
NUMBER BUILT 104,377
Market research was in its infancy, but Nash decided to consult the public in 1949, to canvass opinion of Flajole's drawings for a small car, the NXI (Nash Experimental International). The answer from the suburbs reflected America's changing demographics: it must be cheap as well as dainty because an NX1 would be used mostly as a second car for shopping.
Convinced of a good market, Nash gave it the green light. The company had no experience of building small cars, no suitable components, and no spare factory space. Rather than change the formula, they chose a European subcontractor, Austin, who had the ideal 73ci (1,200cc) engine and three-speed gearbox, from its A40 Somerset, and was eager to build cars for an export market on the other side of the Atlantic.
The Nash Metropolitan went on sale in the US and Canada in March 1954. It came as a two-door convertible or hardtop; the latter in two-tone paint. In 1956, a larger engine headlined detail and styling improvements. Then in April 1957, Austin launched the car in Britain, where its vibrant colors and looks set it apart.