Mercedes-Benz made a spectacular return to top-level motor sport in 1954, 20 years after the three-pointed star was first seen in Grand Prix racing.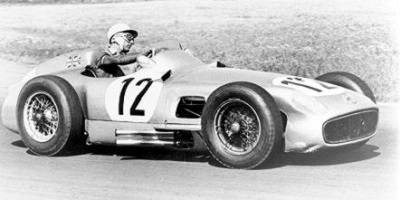 Mercedes Benz W196 1954
YEAR REVEALED 1954
PLACE OF ORIGIN Stuttgart, Germany
HISTORICAL STATUS Formula One racing car
ENGINE eight-cylinder, 152ci (2,497cc)
MAXIMUM POWER 257–290bhp
LAYOUT front-mounted engine driving the rear wheels
BODYWORK single-seater racer
TOP SPEED 150mph (241kph)
NUMBER BUILT ten
In 1950, the international series had been reorganized as Formula One, with a world championship for drivers. The first four years were dominated first by Alfa Romeo and then Ferrari. Mercedes adopted the new regulations for 152ci (2,497cc) un-supercharged cars with its W196, notable for its wind-cheating, all-enveloping body and a special mechanical valve-operating system in its slanted, straight-eight, fuel-injected engine.
The car showed such promise that Fangio defected from Maserati to Mercedes during the 1954 season, driving it to victory in their very first Grand Prix (GP) outing together at Reims in France. Yet, after a poor finish in the British GP, the Argentinian master declared the full-width bodywork a hindrance, saying he couldn't place the front wheels accurately. So for the German GP, at the Nürburgring, a conventional, open-wheel W196 was provided, starting a string of victories.
Mercedes, indeed, varied the W196 design depending on the circuit, including a short wheelbase for Stirling Moss's winning drive-his first ever-in the 1955 British GP. That year, a Mercedes-Benz 300SLR sports car, a W196 derivative driven by Pierre Levegh, crashed into a grandstand at Le Mans, killing 87. The terrible carnage moved Mercedes to withdraw from motor racing altogether; the W196 having won an unprecedent nine out of 12 races entered.