At the 1951 Paris salon, the debut of the Pegaso, an exclusive and sophisticated sports car from Spain, set the automotive world buzzing. Designed by Wilfredo Ricart-recently back in his native Barcelona after nine years as Alfa Romeo's chief engineer-the Pegaso, like so many of Ricart's projects, was a magnificent folly.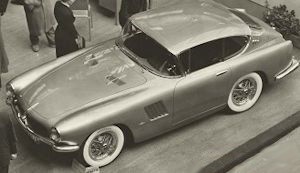 Pegaso Z102 1951
YEAR REVEALED 1951
PLACE OF ORIGIN Barcelona, Spain
HISTORICAL STATUS production car
ENGINE V8-cylinder, 151–194ci (2,473–3,178cc)
MAXIMUM POWER 190bhp (194ci/3,178cc)
LAYOUT front-mounted engine driving the rear wheels
BODYWORK two-door, two-seater roadster and coupé
TOP SPEED 120mph (172ci /2,816cc)
NUMBER BUILT 100 (estimated)
On his return to Spain in 1946, Ricart joined ENASA, an arm of the Instituto Nacional de Industria formed by the Spanish government to counter a crippling shortage of trucks. Four years later, he directed his energies with the engineering department to create an advanced GT car.
At the heart of this brave project was a dry-sump double overhead-camshaft alloy V8 with optional supercharging. It featured a five-speed gearbox. The Pegaso's strong platform chassis was fitted with a variety of exotic bodies, the majority by Saoutchik, but the more attractive coupé and spyders by Touring of Milan. Pegaso's own coupé was crude and slab-sided in comparison.
Two coupés were entered for Le Mans in 1953 but failed to even start, and a 195ci (3,200cc) spyder performed well on the 1954 Carrera PanAmericana until catching fire after a spectacular accident. A twin-hull record machine called "El Bisiluro," however, reached 242.9kph (150.9mph) on the Jabbeke motorway in Belgium. The era of these complex, costly and often temperamental machines was limited. When Ricart retired in 1958, Pegaso returned to its main business of trucks and buses.