After all the space-age excess that had characterized the so-called "dream cars" paraded by General Motors in the first half of the 1950s, the Club De Mer was as refreshing as a sea breeze.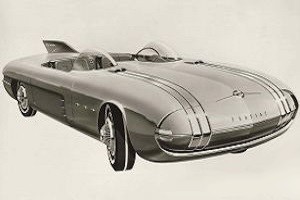 Pontiac XP 200 Club De Mer 1956
YEAR REVEALED 1956
PLACE OF ORIGIN Detroit, Michigan
HISTORICAL STATUS prototype
ENGINE V8-cylinder, 268ci (4,392cc)
MAXIMUM POWER 300bhp
LAYOUT front-mounted engine driving the rear wheels
BODYWORK two-door, two-seater roadster
TOP SPEED unknown
NUMBER BUILT one
Not that it wasn't a dramaticlooking car, especially with its prominent stabilizing dorsal fin jutting out from the rear deck. But rather than trying to apply the rather inappropriate imagery from jet aircraft and space rockets to car proportions, the design team, led by chief Harley Earl and Pontiac studio leader Paul Gillian, turned to land speed record cars.
By their very nature, the forms of these cars was defined by their function. In much the same way, the Club De Mer was a two-seater roadster whose low ground-hugging stance gave the impression of a purposeful body tightly wrapped around the powerful mechanical elements and cockpit.
Its low frontal area, concealed headlights, and overall smoothness were enlivened by a pair of chrome "silver streaks" running from the nosecone to the hood air scoops. In typical 1950s GM fashion, the Club De Mer did a tour of duty as part of the 1956 Motorama show. It was also immortalized for kids as a bestselling Revell plastic model.