As Renault's response to the utilitarian Citroën 2CV, the 4 was a long time coming, making its debut 13 years after the minimalist Citroën first delivered motoring to millions of French drivers.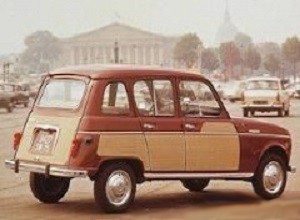 Renault 4 1961
YEAR REVEALED 1961
PLACE OF ORIGIN Paris, France
HISTORICAL STATUS production car
ENGINE four-cylinder, 46–68ci (747–1,108cc)
MAXIMUM POWER 34bhp
LAYOUT front-mounted engine driving the front wheels
BODYWORK five-door, four-seater sedan
TOP SPEED 82mph (132kph)
NUMBER BUILT 8,135,422
But for Renault, the car entered totally new territory on several fronts. It was the company's first front-wheel drive car, although its engine was mounted longitudinally rather than transversely like the Mini's. It also pioneered the concept of a compact five-door hatchback with folding rear seats.
It had several smaller innovations, such as a slightly different wheelbase on each side to facilitate a simple, cheap torsion bar rear suspension as part of the all-independent set-up. This meant the car had tight roadholding despite its propensity to lean alarmingly in any corner taken rapidly. A gearlever sprouting from the dashboard, offering gearchanges via a push/pull action, gave a flat, uncluttered floor.
The frugal and friendly 4 eventually became the biggest-selling French car ever. But it was a basic "tin can" to the end in 1993, which meant it stuck with features such as all-round sliding windows. The 68ci (1,108cc) engined GTL, of 1978, was more tolerable on long trips with higher gearing, bigger drum brakes, and cloth seats.
Its gray plastic trimmings set it apart from the millions of older, more austere lookalikes rattling around Europe. Anyone wanting a more civilized 4 could always choose the Renault 6, built on an identical separate chassis platform.