The Cobra was "invented" by Carroll Shelby, a Texas farmer and racing fanatic, who aimed to concoct a sportsracing car that could stand up to Ferrari.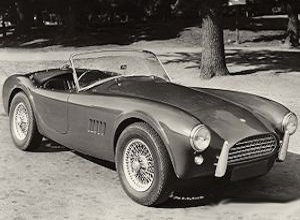 Shelby AC Cobra 1962
YEAR REVEALED 1962
PLACE OF ORIGIN Thames Ditton, Surrey, UK, and Venice, California
HISTORICAL STATUS production car
ENGINE V8-cylinder, 260–427ci (4,261–6,997cc)
MAXIMUM POWER 425bhp
LAYOUT front-mounted engine driving the rear wheels
BODYWORK two-door, two-seater roadster
TOP SPEED 165mph (266kph)
NUMBER BUILT 979
His method was to shoehorn a muscular Ford Fairlane V8 260ci (4,261cc) engine into the "hull" of AC's Ace sports car. The simple, ladder-frame chassis and aluminum body were handbuilt in the UK by AC, and shipped unfinished to Shelby's auto workshops in California where the engines from Ford were fitted.
A sensation on the road, the Cobra was also born to race: the first British finisher at Le Mans in 1963, and scoring numerous victories in American events. Ford later offered Shelby its bigger 289ci (4,736cc) engine but this was merely a stepping stone to the ultimate Cobra: the 427 of 1965.
Conceived as a giant-killing race-winner, it boasted a big-block Ford Galaxie 500 V8. The 271bhp Cobra 289 was a performance legend, so this 427ci 425bhp (6,997cc) Cobra was phenomenal. But despite a redesigned chassis and curved bodywork to accommodate fatter tires, the 427 had a short career: by 1965 it would have clashed with Ford's own GT40. Then safety and environmental legislation killed the Cobra in 1968. Today, originals are highly prized. An "official" AC Mk4 has been available since 1983.