The two buzz phrases in the global car industry of the 1950s were "aerodynamics" and "jet-powered." Many show cars of the time adopted one of these themes to grab attention, but Renault decided to unite both in 1956, to pursue a serious goal: the world land speed record for a gas-turbine car.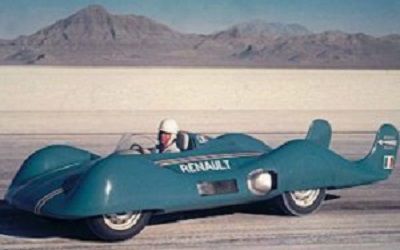 Renault Etoile Filante 1956
YEAR REVEALED 1956
PLACE OF ORIGIN Paris, France
HISTORICAL STATUS speed record car
ENGINE gas turbine
MAXIMUM POWER 270bhp
LAYOUT rear-mounted engine driving the rear wheels
BODYWORK single-seater racer
TOP SPEED 191mph (307kph)
NUMBER BUILT one
The intention was to study "problems of control, roadholding, and braking far in excess of their present knowledge" and, more usefully, to sprinkle a little marketing gold-dust on the new Renault Dauphine family car. One of France's most experienced race car designers, Albert Lory, was summoned to help build the car, which was called Etoile Filante (or "Shooting Star").
It was never intended for actual racing, although with Lory's experience it naturally adopted a spaceframe design, plastic body, enormous disc brakes, and Porsche-type torsion bar suspension. The rear-mounted gas turbine power unit, called Turmo 1, came from French aero engine maker Turboméca. Any driver must have felt mild apprehension with three fuel tanks on board, including a synthetic rubber bag-type one in the car's low-slung nose.
The car was freighted to the Bonneville Salt Flats in Utah for its speed record attempt. Hand-picked test driver Jean Hebert achieved 191.2mph (307.7kph), snatching the speed record for turbine cars from Rover. The dilapidated car was finally renovated by Renault in the 1990s and, for the first time since 1956, ran again under its own power.