The crowds at the Festival of Britain exhibition on London's South Bank in 1951 must have sensed that Britain's motor industry was on top of its game.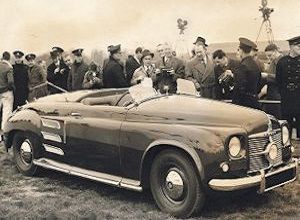 Rover Jet 1 1950
YEAR REVEALED 1950
PLACE OF ORIGIN Solihull, Warwickshire, UK
HISTORICAL STATUS prototype
ENGINE gas turbine
MAXIMUM POWER 230bhp
LAYOUT rear-mounted engine driving the rear wheels
BODYWORK two-door, two-seater roadster
TOP SPEED 151mph (244kph)
NUMBER BUILT one
For here was a car demonstrating Britain had the technology and ingenuity to keep pace with America and Europe. It was Rover's "Jet 1," the world's first gas turbine car-an open two-seater, using body panels that were recognizably adapted from the Rover 75 sedan, and offering seamless delivery of power to the wheels.
In 1952, it established a new speed record at 151.96mph (244.56kph) for the flying kilometer. Although several companies would also build turbine cars, none would pursue the technology like Rover, with its long series of prototypes stretching into the mid-1960s. For the small Jet 1 project team, led by Spencer King and Frank Bell, there were numerous obstacles: the engine turned at 26,000rpm, five times higher than most car engines in the early 1950s; it was air-cooled; and had no internal engine braking.
These hurdles were overcome, but two problems proved insurmountable: exceptionally high fuel consumption and the huge costs of making such an engine. However, the technology was soon exploited commercially by Rover Gas Turbine Engines Ltd and for Britain, the Rover Jet 1 was a true flag-waver