There's a vast array of designs that might illustrate the concept car boom of the 1980s, when manufacturers wanted to demonstrate their capabilities of the near- to medium-term future.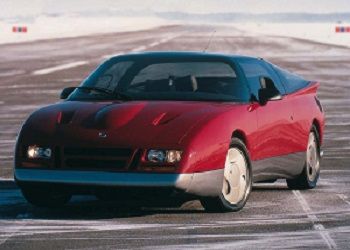 Saab EV-1 1985
YEAR REVEALED 1985
PLACE OF ORIGIN Trollhättan, Sweden
HISTORICAL STATUS prototype
ENGINE four-cylinder, 121ci (1,985cc)
MAXIMUM POWER 285bhp
LAYOUT front-mounted engine driving the front wheels
BODYWORK two-door, four-seater coupé
TOP SPEED 169mph (272kph)
NUMBER BUILT one
And almost all of them are empty vessels, dramatic yet delicate mock-ups with no chance of ever leaving the motor show hall. In this company, then, Saab's Experimental Vehicle No 1 (EV-1) was rather special: a fully working car brought from paper to reality in six months, and with the world's first automotive solar panels.
It was built by a team whose leader, Bjorn Envall, had masterminded Saab's styling since 1969. As brand new cars were a rarity from the Swedish manufacturer, he could give his stylists and engineers their head with this purposeful-looking, wind-cheating sports car.
The steel body had a fully-glazed bronze-tinted glasshouse with 66 solar cells, capturing ultraviolet rays to power the car's air-conditioning and keep the cockpit cool. Front and rear body sections were of Aramid composite, which regained its shape after dents, while the seats, adapted from a Chevrolet Corvette's, were 50 percent lighter than Saab's normal ones but incorporated powered side bolster supports.
The EV-1 boasted huge performance from the Saab 900 Turbo 16 engine, but it had to be safe, too. The doors had side impact bars incorporating carbon fiber layers. Tiny elliptic reflector headlamps provided blazing nighttime illumination, while the after-dark speedometer just lit the current speed range.