Transport for the pope during public appearances had tended to be in open limousines until the terrible event that befell Pope John Paul II on May 13, 1981. While blessing worshipers in St. Peter's Square, he was shot by a gunman only 15ft (4.5m) away.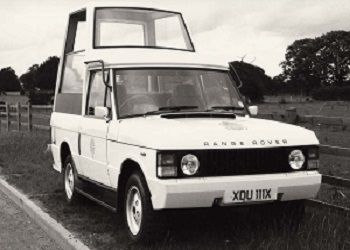 Range Rover Popemobile 1982
YEAR REVEALED 1982
PLACE OF ORIGIN Solihull, West Midlands, and Letchworth, Hertfordshire, UK
HISTORICAL STATUS custom parade vehicle
ENGINE V8-cylinder, 215ci (3,525cc)
MAXIMUM POWER 132bhp
LAYOUT front-mounted engine driving all four wheels
BODYWORK three-door, six-seater station wagon
TOP SPEED unknown
NUMBER BUILT two
It was felt that any future vehicle carrying the pontiff must be bulletproof, and the first one so equipped was a Range Rover specially built for his British visit in summer 1982. Naturally, it gained the popular moniker of "Popemobile" and the familiar image of a white vehicle with a towering glass box at the back for his Holiness became readily associated with it.
However, the first such vehicle was actually built in 1980 for a trip to Germany, and based on a Mercedes-Benz G-Wagen. The 1982 Popemobile, therefore, continued the tradition of the host nation providing transport. British Leyland was obliged to help, and prevailed upon Ogle Design to oversee planning and construction.
Two identical Range Rovers were built at the insistence of security chiefs, equipped with run-flat tires and police radios. A rear door opened into a leather-upholstered interior, with four seats, that was also tall enough for the pope to stand up.
Bulletproof glass extended only to "heart" level, and open side windows at the top meant he could be seen unobscured. Happily, no attempts were made on the pope's life during his tour; and he was just as secure in an enormous Leyland T45 Popemobile truck built for the Scottish leg. Afterwards, one of the Range Rovers was acquired by the Vatican.