Ireland has few car-making boasts, despite Henry Ford's establishment of a Model T assembly plant in Cork as early as 1917. But the Shamrock is a rare exception, built with the ambition of captivating US customers.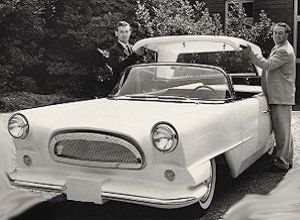 Shamrock 1959
YEAR REVEALED 1959
PLACE OF ORIGIN Castleblaney, County Monaghan, Ireland
HISTORICAL STATUS production car
ENGINE four-cylinder, 91ci (1,489cc)
MAXIMUM POWER 53bhp
LAYOUT front-mounted engine driving the rear wheels
BODYWORK two-door, four-seater convertible
TOP SPEED 90mph (145kph) (claimed)
NUMBER BUILT approximately ten
Possibly inspired by the American success of the Nash Metropolitan, Californian businessman Wilbur Curtis decided to up the style stakes by selling a shrunken copy of the contemporary Ford Thunderbird, yet powered by the same Austin 92ci (1,500cc) engine found under the Metropolitan's two-tone steelwork. And he'd make sure it had that desirable "import" aura by building it in Europe.
He chose Tralee in County Kerry, Ireland. The fiberglass-bodied car came together, with help from Canadian race driver Alvin "Spike" Rhiando, around a simple ladder-frame chassis with almost every mechanical component taken from the Austin A55. As a European-size car, it looked overbodied on its 98in (2.5m) wheelbase, with huge front and rear overhangs, and a narrow track. However, unlike the Metropolitan, it was a full four-seater convertible, with optional removable hardtop.
Production only started after a move to Castleblaney, County Monaghan, and Curtis was bullish, anticipating 3,000 sales in 1960 and 10,000 annually thereafter. No doubt underfinancing scuppered the plans, though, together with several serious design flaws. Reports vary, but no more than ten were made in six months, and the remaining stock of spares was rumored to have been dumped in a local Loch. Four survive today.