MG, the company that virtually invented affordable, fun, British sports cars – started life making stolid, unsporting Morris cars go faster – but it quickly adapted and modified them into some legendary models to produce affordable, performance cars.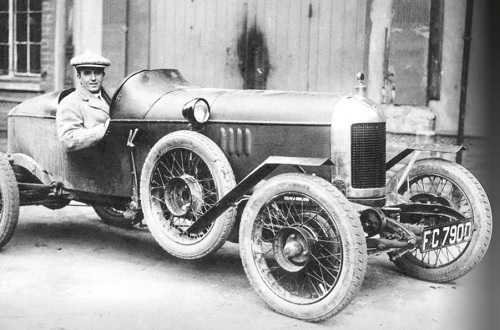 The initials "MG" STAND for "Morris Garages," a Morris dealership in Oxford owned by Morris Motors founder, William Morris, and run by general manager Cecil Kimber. In 1922, Kimber began to offer racier bodies to sit on sensible, sedate Morris chassis with mechanical parts that were soon being tuned to improve performance.
Two years later he launched the MG 14/28 Super Sports, based on the 1.8-liter Morris Oxford, but with a stylish, lightweight aluminum body. The car was a success. The six-cylinder 18/80 followed, but this was more of a fast touring car than outright sports model. That came in 1929 with the M-type Midget, based on the 847 cc Morris Minor, but with a pretty, open-top, twoseat body.
This 65 mph (105 km/h) machine became the UK's first truly affordable mass-market sports car, and set the mold for MG's best-known offerings, a series of open roadsters with separate fenders, cutaway doors, running boards, and often-octagonal instruments shaped like MG's famous badge. These models culminated in the TF Midget, which was built until 1955.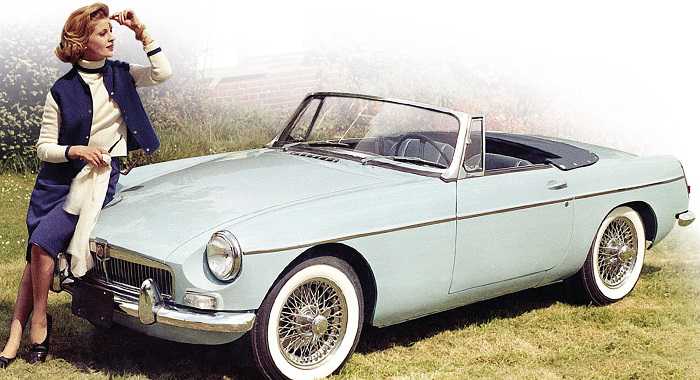 M-types were modified and became successful racing cars, some fitted with superchargers, and a series of competition MGs enjoyed publicitygenerating attention at venues from Brooklands to Italy's Mille Miglia.
The mid-1930s saw MG give up the racetrack, when it was sold to the vehicle-making Morris Motors organization, which took over designing MG's cars. This also meant that Cecil Kimber now had to answer to a board of directors. After a series of disputes, he left in 1941.
MG returned to car production in 1945 following the end of World War II with the Y-type sedan and the MG TC Midget sports model, which became a massive hit in America. Its 300 bhp, teardropshaped EX181 car also grabbed headlines in the late 1950s when it reached a speed of 254 mph (408 km/h), to establish a land speed record.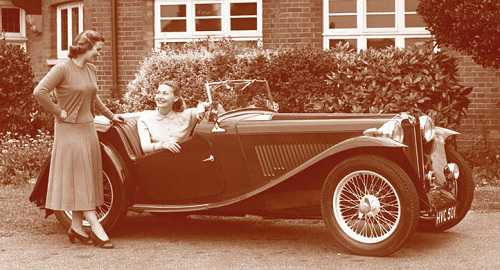 When Morris merged with Austin in 1952 to create the British Motor Corporation (BMC), MG was part of the deal, and three years later it launched the MGA, with modern, windcheating bodywork. The car was another sales success, despite mechanical problems with a short-lived twin-cam version.
The early 1960s saw MG revive the Midget name for a baby sports car that was virtually identical to the Austin-Healey Sprite. In 1962, it launched the 1,800 cc MGB open two-seater, which replaced the MGA and had unibody construction. A closed GT version followed, and both sold well, unlike the short-lived, 3-liter MGC, whose heavy engine caused handling problems.
There were also MG versions of BMC sedans, such as the Morris Oxford and 1100, but by 1971, when further mergers saw MG become part of British Leyland, these were axed. Lack of funds for development saw the aging Midget and B continue until 1980. Only a short-lived, mid-'70s V8, 3.5-liter B enlivened the range. Despite an attempt by the owners of Aston Martin to buy MG, production ended, the name was put on ice, and its famous factory in Abingdon was closed.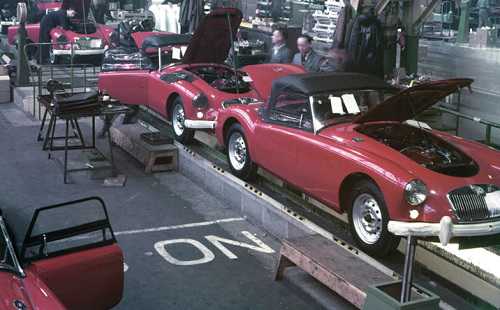 The MG badge returned in the early '80s on a series of sporting versions of Austin Metro, Maestro, and Montego family cars, and in 1992, the RV8, a revised B with a 3.9-liter, V8 Range Rover engine, was built to revive MG's sports car heritage. Two years later came the mid-engined MGF, which, like its classic predecessors, used many parts from sedan models, by then made by the Rover Group. This car evolved into the TF. Both vehicles sold well, having been built when BMW owned Rover and latterly, the Phoenix Group, which sold rebadged performance versions of the Rover 25, 45, and 75 sedans as MGs.
The Rover Group went bankrupt in 2005, and was bought by Chinese automaker, Nanjing Automobile. MG currently makes sedan and hatchback models in China, and has enjoyed success in the British Touring Car Championship race series.