AGONIZINGLY PRETTY, THE AC ACE catapulted the homespun Thames Ditton company into the automotive limelight, instantly earning it a reputation as makers of svelte sports cars for the tweedy English middle classes. Timelessly elegant, swift, poised, and mechanically uncomplicated, the Ace went on to form the platform for the legendary AC Cobra.
Clothed in a light alloy body and powered by a choice of AC's own delicate UMB 2.0 unit, the hardier 2.0 Bristol 100D2 engine, or the lusty 2.6 Ford Zephyr power plant, the Ace drove as well as it looked. Its shape has guaranteed the Ace a place in automotive annals. Chaste, uncluttered, and simple, it makes a Ferrari look top-heavy and clumsy. Purists argue that the Bristol-powered version is the real thoroughbred Ace, closest to its original inspiration, the Bristol-powered Tojeiro prototype of 1953.
Side view

The most handsome British roadster of its day, and as lovely as an Alfa Romeo Giulietta Sprint, the Ace had an Italianate simplicity. Proof of the dictum that less is more, the Ace's gently sweeping profile is a triumph of form over function.
Proportions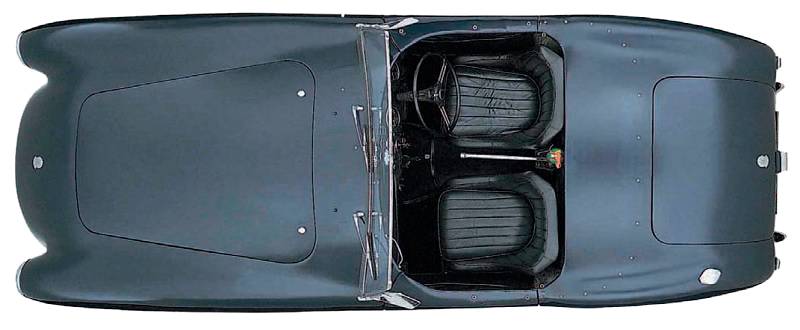 The Ace was simplicity itself—a box for the engine, a box for the people, and a box for the luggage. On the handling side, production cars used Bishop cam-andgear steering, which gave a turning circle of 36 ft (11 m) and required just two deft turns of the steering wheel lock-to-lock.
Export success
The Ace became one of AC's most successful creations, with a huge proportion exported to America, where its character as an Englishman's girl-catcher justified its price tag of a small house.
Rear-engined gusto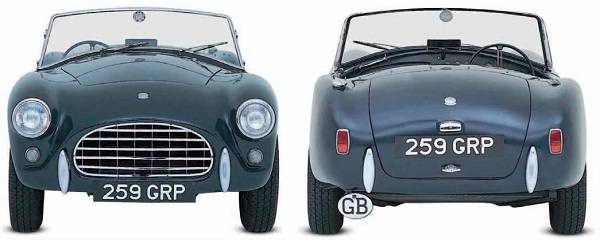 Engines were placed well back and gave an 18 percent rearward bias to the weight distribution. Performance-wise, it helped—an Ace recorded an average of 97 mph (156 km/h) over 2,350 miles (3,781 km) at the 1957 Le Mans 24 Hours, the fastest ever for a Bristol-engined car.
Interior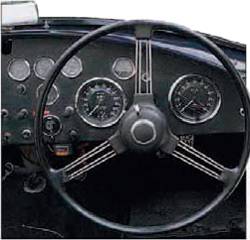 In pure British tradition, the Ace's cockpit was stark, with gauges and switches haphazardly scattered across the dashboard. The two larger dials were a speedometer—with a clock inset into the dial—and a tachometer.
Engine
Shared by the BMW 328, the hemi-head 125 bhp 2-liter Bristol engine was offered as a performance conversion for the Ace.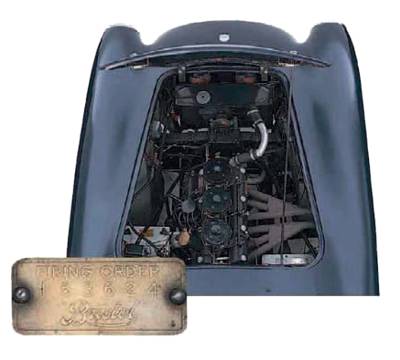 Brass plate. The firing order of the Ace's six cylinders was displayed on an engine plate.
MODEL:
AC Ace-Bristol (1956–61)
PRODUCTION:
463
BODY STYLE:
Two-door, two-seater sports roadster.
CONSTRUCTION:
Space-frame chassis, light alloy body.
ENGINE:
Six-cylinder push-rod 1971cc.
POWER OUTPUT:
105 bhp at 5000 rpm
(optional high-performance tune 125 bhp at 5750 rpm).
TRANSMISSION:
Four-speed manual Bristol gearbox (optional overdrive).
SUSPENSION:
Independent front and rear with transverse leaf spring and lower wishbones.
BRAKES:
Front and rear drums. Front discs from 1957.
MAXIMUM SPEED:
117 mph (188 km/h)
0–60 MPH:
(0–96 KM/H) 9.1 sec
0–100 MPH:
(0–161 KM/H) 27.2 sec
A.F.C. :
21.6 mpg (7.6 km/l)
Specifications AC Ace-Bristol