Mini is now a fully fledged car brand encompassing coupes, an AWD crossover, and racing models, but at its heart lies a revolutionary small car, based on a design conceived by Sir Alec Issigonis in the mid-1950s. Now owned by BMW, the firm continues to build on the little car's success.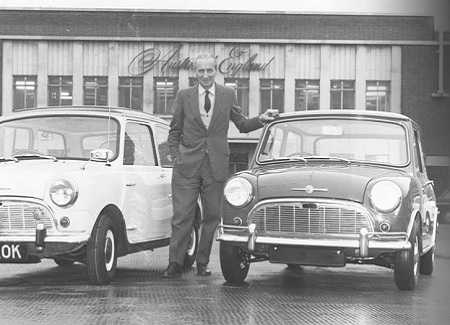 The MINI was the brainchild of vehicle design genius Sir Alec Issigonis, who had arrived at Morris Motors in 1932 to work on suspension systems, but went on to create the famous Morris Minor. Despite Morris founder Lord Nuffield hating its styling and likening it to a poached egg, the Minor was a massive sales success, becoming the first British car to attract 1 million buyers, partly because it was spacious in spite of its small size and handled well-things that would also make the Mini popular.
When Morris merged with archrival Austin in 1952 to form the British Motor Corporation (BMC), Issigonis left and went to work for military vehicle and luxury automaker Alvis, but BMC boss Sir Leonard Lord asked him back in 1955. The company was looking to produce a new, small, affordable sedan that was able to compete with the tiny, three-wheeled bubble cars dominating the market at the time-the German-made
Messerschmitt and Heinkel. The task was made all the more urgent by soaring gasoline prices and fuel rationing following the 1956 Suez Crisis, so development on the new car was accelerated. Rumor has it that Issigonis sketched out the basic Mini template on a tablecloth, and, to get the footprint of the 10 ft (3 m) car, he drew a chalk rectangle on the floor around four chairs. The car was known as ADO15, designed to conform to BMC's requirement that it seat four using an existing engine.
Issigonis met this challenge with an innovative car that broke the mold. His creation had a four-cylinder, water-cooled, transverse engine, front-wheel drive, and four-speed transmission. Its fabulously compact dimensions aided handling and saved space-80 percent of which was given over to passengers and their luggage.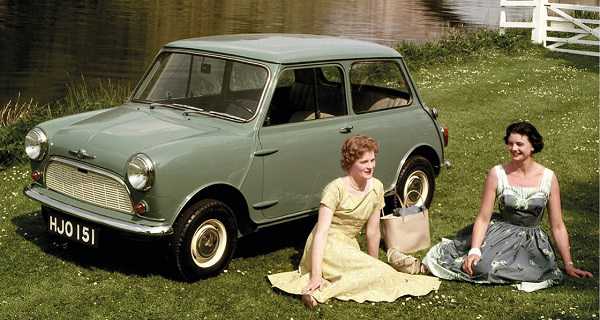 Once the Mini project was approved, Issigonis was given a year to rush the car into production. He oversaw everything, including designing the tools to make it. However, after its launch in 1959, the car revealed some teething problems, including leaking floor panel gaps due to the fact that, as Issigonis later admitted, he had designed them the wrong way around. However, the public embraced the car and the Mini was an instant hit.
Issigonis did not like compromise or taking advice. He believed cars needed to be uncomfortable to keep their drivers alert, and that radios were pointless luxuries, and so the Mini did not have space for one. What it did have though, was interior storage in its hollow doors-supposedly the right size for his favorite bottle of gin. The Mini offered space, expert handling, and economy, became a part of the culture of the "Swinging Sixties," and was driven by everyone from the Beatles to Princess Margaret. It even had a starring role in the 1969 film The Italian Job with Michael Caine.
In 1961, racing car legend and automaker John Cooper put his name on performance Minis, and soon Mini Coopers became icons in their own right. The powerful S version had a racing-tuned, 1,071 cc engine, marking it out as a formidable competition car. It went on to dominate the Monte Carlo Rally in the mid-1960s, securing victories in 1964, 1965, and 1967. The original model started life with rubber cone suspension, which was ditched in 1964 in favor of an interconnected hydrolastic system. When this was abandoned in 1971 due to unreliability and cost, the earlier, rubber suspension returned.
Issigonis meanwhile started work on a replacement for the Mini. The 9X was lighter and shorter than its predecessor and looked good on paper, but this car never made it past the prototype. Instead, the Mini, which was still selling well, was given a facelift. Marketed alongside the classic "round front" model, the Clubman version launched in 1969, and featured a squared-off nose and repositioned instruments.
The original car was still in production, although Minis now came with roll-down rather than sliding windows. In 1980 another replacement, the Austin Metro, was also sold alongside the Mini, which continued as a modern classic until 2000. In 2001, Mini's new owner BMW revealed an all-new model. An immediate success, this car was bigger inside and out, had an updated design, and fun driving characteristics, without the noise, hard ride, and upright driving position of the original.
From its inception at the former Morris factory in Cowley, Oxfordshire, the Mini and its adaptations have become enormously popular worldwide. Issigonis's innovative design revolutionized the small car, and it remains one of Britain's best-loved cars.