The EV1 traced its roots back to 1987 when General Motors and AeroVironment, an electric car specialist, combined forces to design a single-seat concept called the Sunraycer in a bid to win the inaugural World Solar Challenge – a trans-Australian race for solar vehicles.
The Sunraycer project came about after GM's Australian division pitched a plan to enter the race. GM's Chairman, Roger Smith, was intrigued by the possibilities of a solar-powered car and gave the plan his blessing – but the timescale was incredibly tight. Smith said he would only back the idea if the team could design and build a credible solar challenger within 10 months.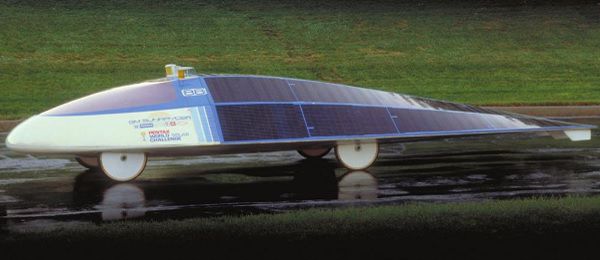 To kick-start the project, Smith hired AeroVironment, a Californian technology company that specialized in electrical energy systems. Four weeks later, an excited team of engineers, designers and specialists concluded it could be done.
What started out as a fun project became deadly serious when Ford Australia announced it would enter the race as well. The two rivals would go head-to-head. Teams from GM, GM Hughes Electronics, AeroVironment and more than a dozen other GM divisions and suppliers were seconded to work on the Sunraycer programme.
From the outset the team agreed that, if the car was to stand a chance of covering the length of Australia, it had to be lightweight and aerodynamically efficient. So the Sunraycer's body was dictated by the wind tunnel. Hours and hours of aerodynamic refinement led to a flat shape reminiscent of a manta ray. It tipped the scales at a featherweight 585 lb (265 kg) and had a very low coefficient of drag (just 0.125) giving it a top speed of 68mph (109 km/h).
The experts at GM Hughes Electronics brought their knowledge of satellite solar panels to the team. They fitted 8,800 photovoltaic cells to the Sunraycer's sleek bodywork. In the unrelenting heat of the midday Australian sun, that was enough to generate 1,500W of power. To make the most of this, GM's physics department came up with a new engine utilizing state-of-the-art magnets and capable, according to its manufacturer, of 92 per cent efficiency. Power was stored in a silver oxide battery pack, so the vehicle could keep going even in cloudy weather. The bodywork was fashioned from Kevlar over a simple frame that weighed a mere 14 lb (6.3 kg). In fact, by far the heaviest element of the Sunraycer was the driver.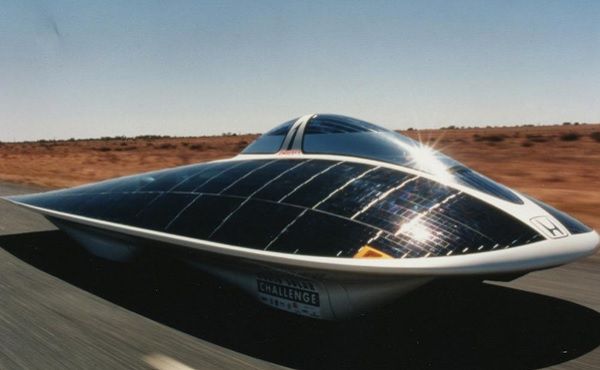 When the Sunraycer was wheeled out to do battle, it quickly became painfully obvious that the opposition didn't stand a chance. Sunraycer was so far ahead of anything else in the field, it was almost embarrassing. It won the 1,950-mile (3,138km) race from Darwin, in the north of Australia, to Adelaide, in the South, by a huge margin, finishing more than 620 miles (998 km) ahead of its nearest competitor, the Ford Australia Sunchaser. Indeed, the well-beaten Ford team entrant trailed in a whole 2 days after Roger Smith had watched his victorious Sunraycer cross the finishing line.
And that was it. After setting a solar-powered world speed record the following year, starring in a promotional film and going on a trans-continental publicity tour, the Sunraycer was put out to grass. For all its mastery, solar power was a technological dead end.
However, keen not to see the company's $2 million investment and effort go to waste, Smith gave AeroVironment the go-ahead to build an electric concept car.
John Zwerner, executive director of GM advanced product engineering, explained the thinking that led to the concept:
The fact that we won the race in Australia in 1987 by some two-and-a-half days gave us a strong feeling that we had a pretty good lock on some technology. It looked like a good evolution [of the project) to examine a pure electric car. We wanted to drive a stake in the ground as to what a contemporary thinking, but producible, electric vehicle would look like and [how it would) perform, if we were to build it.
Mules – conventional cars with experimental drivetrains – were soon up and running. GM used several different vehicles to evaluate various electrical power systems, including a Geo Storm and a Lumina APV minivan. The company invited several journalists to test the Lumina at its desert proving grounds in Arizona. Dual front-drive electric motors were examined but rejected in favour of a single, powerful AC induction motor.