Produced from 1935–55, the MG T series was a popular range of small, convertible sports cars, mostly steel-bodied on a wooden frame, and capable of around 80 mph (129 km/h). The postwar TC enjoyed particular success with sales of more than 10,000, in large part because of the car's achievements on the export market. It did especially well in the US, the open-bodied two-seater being widely credited with introducing American drivers to the concept of the small sports car.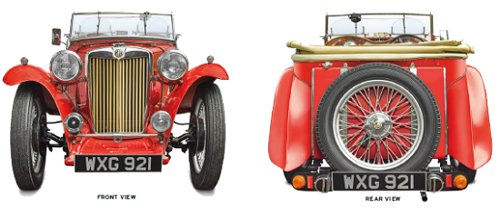 Production AT MG was interrupted by World War II, when the factory at Abingdon stopped making cars and switched instead to the manufacture and repair of military equipment. When peace was declared in 1945, the company moved swiftly back to car production. With the government warning companies to "export or die," there was a particular focus on overseas sales and a new TC model was hastily developed.
The basic format was carried over from prewar models, including the ash frame, compact two-seater body, and the 1,250 cc four-cylinder engine. Although dated, the cutaway doors, swept wings, a slab-type fuel tank, and a trunk-mounted spare wheel gave the MG a sporty appearance. With little in the way of competition, the car sold well, particularly for something the factory regarded as little more than a stopgap model.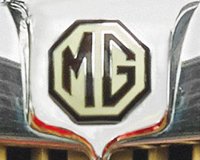 MG badge
Short for Morris Garages, the name MG was chosen by founder Cecil Kimber whose early cars were modified Morris Cowleys. By 1924 the octagonal logo appeared on all cars, and many also had eight-sided dials in the cockpit.
| | |
| --- | --- |
| Model: | MG TC 1947–49 |
| Assembly: | Abingdon, UK |
| Production: | 10,000 |
| Construction: | Steel chassis, ash-framed steel body |
| Engine: | 1,255 cc, straight-four |
| Power output: | 54 bhp |
| Transmission: | 4-speed manual |
| Suspension: | Front and rear leaf springs |
| Brakes: | Four-wheel drums |
| Maximum speed: | 73 mph (118 km/h) |
Specification MG TC 1947-49
On the road
The fact that it was essentially a postwar machine with prewar looks did little to dent MG sales when it was new, and decades later it serves only to enhance the already considerable appeal of the sprightly TC.
It may not be a vintage car but it certainly looks like one, and perhaps that is the point. The performance of these little MGs was always modest, but even now they cry out to be driven. Most at home cruising leisurely along country two-laners, it's not hard to see why people flocked to buy them in the 1940s. Seeing one now – parked outside a New England bed-and-breakfast or on a leafy campus – its simple but stylish shape is still pretty hard to resist.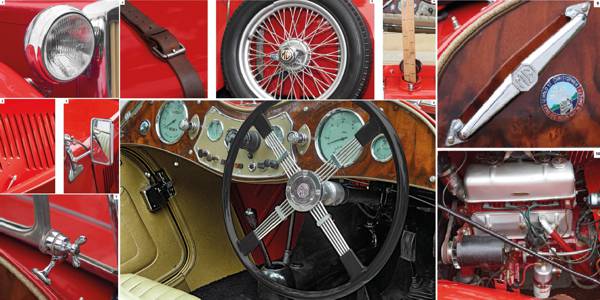 Lights only 6-volt not 12
Engine bay louvers provide additional cooling
Wing mirror is an essential modern addition
Leather strap secures the hood closed
Rear spare mounted on slab-type fuel tank
Improvised fuel gauge – the TC only had a low fuel warning light
Adjustable mount for fold-flat windshield
Beautiful art deco-style dashboard
Passenger grab handle – the TC had no seat belts
Simple straight-four engine