With 7.8 million cars and trucks rolling off the production line in 2009, Toyota is the world's largest vehicle producer. A pioneer of hybrid technology, this Japanese marque prides itself on quality and innovation. Its range extends from tiny economy cars through state-of-the-art sports and racing cars to executive limousines.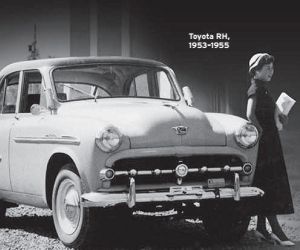 AFTER GRADUATING in mechanical engineering at Tokyo Imperial University, Kiichiro Toyoda wanted to start building cars in his father Sakichi's factory, which produced automatic weaving looms. To learn about the automotive business, Kiichiro visited car manufacturers in Europe and the United States. After the sale of one of his father's loom patents to a British company in 1929 he was allowed to use the money from this deal to set up the automobile side of the business.
In 1930 Kiichiro built a two-cylinder engine and then a small car to run it, but it was not successful. Starting again from scratch, he then produced a more conventional, American-type car, with a Chevrolet-sourced chassis, a flowing, Chrysler-like body, and an overhead-valve, straight-six, 3,389 cc engine. Called the Toyoda Model AA, it entered production in 1936.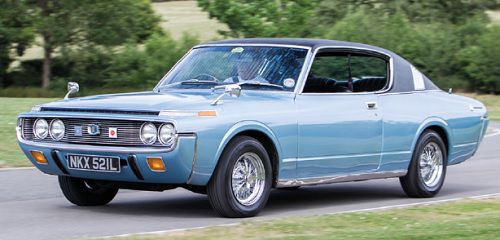 Toyota Crown Hardtop Coupe, 1971
Designed for the 1970s, the Crown followed US styling trends; the power unit was a 2.6-liter straight six.
The following year, the Toyota Motor Company Limited was formed. The name was changed from Toyoda to Toyota because it was easier to pronounce in English,and, crucially, when written in Japanese it had eight strokes-a lucky number in Japan. At the time, almost all cars sold in Japan were U.S. imports, but that was about to change as the Japanese government struggled with a balance-of-payments deficit.
Japan's Ford and GM plants were closed, and the government imposed restrictive duties on imports. Toyota was quick to exploit the opportunity, boosting its monthly output of cars, trucks, and buses from 100 to 1,500–2,000 by the end of the 1930s.
To bring more of the production process in-house, the company set up the Toyoda Steel Works to supply steel, and the Toyoda Machine Works to make machine tools and auto parts. During World War II, Toyota made trucks for the Japanese army.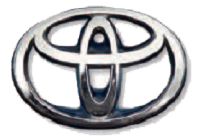 Post-war production of civilian vehicles began slowly under the economic restrictions imposed by the Allied Occupation Authority. One of Toyota's first vehicles was a 4×4, which in 1951 would be used as the basis for the Land Cruiser -a model that went on to sell over 6 million worldwide by the end of 2008. Back in 1950, with the company still struggling, wage reductions and layoffs were announced, leading to an eight-week strike by the workforce that caused Kiichiro Toyoda to resign.
His nephew, Eiji Toyoda, then took the helm, keeping the family link alive. Eiji spent three months in the United States visiting Ford, and what he saw there would later help him to turn Toyota into one of Japan's most efficient car manufacturers.
In the short term, Toyota was saved from bankruptcy by a large order for military vehicles from the Allied Occupation Authority, during the Korean War of 1950–1953. In an ingenious effort to boost sales, Toyota began teaching people to drive. The strategy was a success, since most new drivers were eager to buy the make of car in which they had learned.
The Crown, one of the marque's best-known models, was launched in 1954, and it spearheaded Toyota's first attempt to break into the American market in 1957. Although it was some time before the U.S. public became receptive to Japanese cars, the firm's production continued to rise as other markets around the world gradually opened up to Toyota.
By 1965 Toyota was building 50,000 cars and trucks per month, and by the end of the decade it was exporting more cars to the United States than any other manufacturer apart from Volkswagen. The family-size Corolla, launched in 1966, rapidly became Japan's bestselling car. Well engineered, well designed, compact, and affordable, it had a universal appeal and proved especially popular in Europe.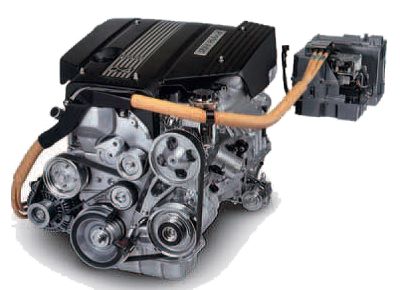 Toyota Prius hybrid power plant
The Prius has both an electric motor and a gas engine. The car can start and travel at low speeds on its electric motor; above a certain speed, the gas engine kicks in.
By 2009 the Toyota Corolla had sold 25 million worldwide. Under Eiji Toyoda, the company adopted an aggressive acquisitions policy, taking over Hino in 1966 and Daihatsu in 1967. Expansion was rapid, and Toyota grew from the world's fifth-largest car maker in 1969 to the third-largest three years later.
Toyota also began moving into sports cars. Its first model, the cute and innovative Sports 800, had a lift-off hardtop. This 790 cc midget was soon joined by the 2000GT, Japan's first serious grand tourer. The 2000GT had beautiful lines, double overhead camshafts, a straightsix engine, a five-speed synchromesh gearbox, all-independent suspension, all-disc brakes, and a top speed of 140 mph (225 km/h).
The 2000GT never entered serious production, but did earn Toyota the respect of sportscar buyers-just what it needed to launch the affordable Celica coupé in 1970. The Celica became a hit in the United States and Europe, winning races and rallies around the world.
Shoichiro Toyoda, Kiichiro's son, became president of the Toyota Group in 1982. One of the first all-new cars to be launched under his tenure was an affordable, mid-engined sports model, the MR2. With a 16-valve, doubleoverhead-cam engine and all-disc brakes, the expertly engineered MR2 was an instant success.
Four years later, Toyota introduced both a supercharged edition of the MR2 and a T-bar semi-convertible version, turning to turbocharging for the second generation MR2 in 1989. In 1989, Toyota launched its Lexus brand in the United States, recognizing that luxury-car drivers might hesitate to buy a brand known for making compact cars. Lexus products have since gone global, arriving on the Japanese market in 2005.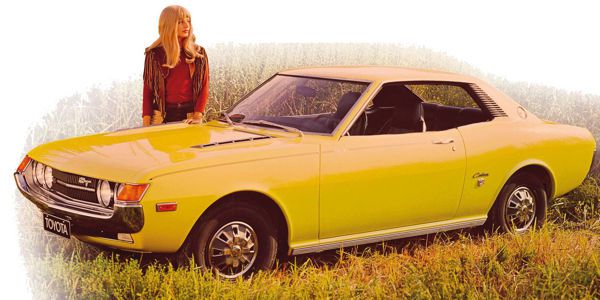 Toyota Celica 1971
Here was Japan's answer to Europe's Ford Capri and Opel Manta: a sporty coupe with both mundane and exciting engine options.
For Toyota, motor sport has become an increasingly important marketing tool: The Celica won the World Rall Championship in 1993, 1994, and 1999, and in 2002 Toyota made its first foray into Formula 1. Toyota has also carved out a name for itself as a leader in the field of hybrid vehicles, which combine conventional engines with electric motors.
The Prius, on sale from 1997, was the world's first massproduced hybrid; by the end of 2010, it had notched up around 2 million sales. As Toyota grew, it established factories throughout the world. It now has a manufacturing presence in 26 countries, and always tries to exploit the opportunities that each presents; one example is the Aygo city car, built in the Czech Republic since 2005 as a joint project with Peugeot.
Akio Toyoda, son of Shoichiro, was made president in 2009 and led Toyota through its most difficult challenge for 60 years: the recall of over 8 million cars due to faulty accelerator pedals. With recall costs of $1.93 billion, the crisis resulted in huge losses for Toyota and tarnished its reputation for quality.