The golden jubilee of Queen Elizabeth II, in 2002, was cause for rejoicing around the UK, with ceremonial events and street parties.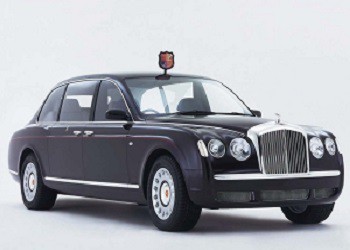 Bentley State Limousine 2002
YEAR REVEALED 2002
PLACE OF ORIGIN Crewe, Cheshire, United Kingdom
HISTORICAL STATUS bespoke ceremonial limousine
ENGINE V8-cylinder, 412ci (6,750cc)
MAXIMUM POWER 400bhp
LAYOUT front-mounted engine driving the rear wheels
BODYWORK four-door, six-seater limousine
TOP SPEED unknown
NUMBER BUILT one
The country's auto industry perhaps lacked the empirical stature it enjoyed when Her Majesty acceded to the throne in 1952, but a Bentley-led consortium was still determined to create a suitable commemorative gift for her: a new state limousine.
This was a unique, one-off car for ceremonial duties, and was designed in close collaboration with Buckingham Palace. For instance, the floor of the rear compartment was high enough for the transmission tunnel to be positioned unobtrusively beneath, with wide-opening doors cut into the roof of the monocoque body allowing the monarch to stand upright when disembarking.
The Royal household chose black-over-Royal Claret paintwork with red coachlines, requesting minimum external chrome, and comfortable trim and upholstery. This timeless Bentley-which runs on liquid-gaseum fuel-was presented to the queen in May 2002.
At that time, Bentley and Rolls-Royce were being de-merged after having spent 71 years as one company; Bentley was acquired by German car maker Volkswagen. The limousine arrived 25 years after the queen had been presented with a modified Rolls-Royce Phantom VI for her silver jubilee in 1977.