The collapse of the Berlin Wall in 1989 was the most symbolic event in the ending of the "Cold War" between East and West. But the emergence of the Trabant, spluttering its way into a bright new Europe, was the automotive equivalent.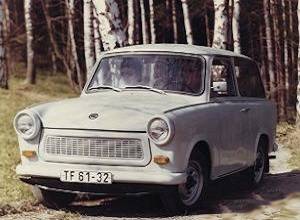 Trabant 1958
YEAR REVEALED 1958
PLACE OF ORIGIN Zwickau, former East Germany
HISTORICAL STATUS production car
ENGINE two-cylinder, 31–36ci (500–595cc)
MAXIMUM POWER 25bhp
LAYOUT front-mounted engine driving the front wheels
BODYWORK two-door, four-seater sedan, estate, and open utility
TOP SPEED 62mph (100kph)
NUMBER BUILT 3,096,000
West German motorists were horrified at its highly polluting, two-stroke 600cc (37ci) engine, basic safety systems, and body panels made from rubbish-resin-strengthened wood pulp and cotton. But that is what East German drivers had cheerfully endured since 1958, when the first "Trabbi" went on sale as the only small car for the country's citizens.
Weirdly, for a car known successively as the Trabant (for "Traveler") P50, P60, and P601, the hood badge was a prominent "S". It was a legacy of the East German government's motor industry nationalization policy. After the eastern territory was annexed in 1945, the former Audi and Horch factories found themselves locked behind the "Iron Curtain," and in 1958 they were merged to form VEB Sachsenring Automobilwerke.
Sachsenring was the name of a nearby racing circuit, hence the "S" on the Trabant. Little changed on the Trabant during its 33 years: a station wagon came in 1960; a bigger engine in 1963; a further power hike in 1969 to 26bhp; and coil spring suspension to replace its antediluvian swing axles in 1988. After German reunification in 1990, a modern VW Polo engine and front disc brakes were added. Production ended in 1991, but few former East Germans were sad to see it smoking off into the sunset.