It was known as the "new Roadster," or by its nickname "Silver Bullet," but for Triumph, the official and futuristic TRX proved nothing but trouble.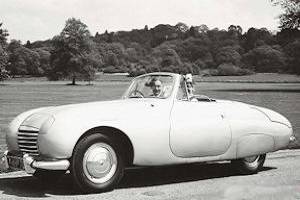 Triumph TRX 1950
YEAR REVEALED 1950
PLACE OF ORIGIN Coventry, Warwickshire, UK
HISTORICAL STATUS prototype
ENGINE four-cylinder, 127ci 2, (088cc)
MAXIMUM POWER 72bhp
LAYOUT front-mounted engine driving the rear wheels
BODYWORK two-door, two-seater roadster
TOP SPEED 90mph (145kph) (projected)
NUMBER BUILT three
The smooth-lined two-seater, unveiled in 1950, was meant as a replacement for the Triumph 2000 Roadster, a delightfully old-fashioned model with its tiny cockpit, dickey seat, and huge, free-standing headlamps. Seeking a more progressive image, Triumph stylist Walter Belgrove came up with the TRX's sleek, torpedo-like profile, which was built in doubleskinned aluminum.
To maintain the flowing look, headlamps were concealed behind revolving metal covers, and the rear wheels were artfully faired-in. The new car was loaded with power-assisted gadgets. Windows, radio aerial, headlight covers, and the sideopening hood were electrically operated, and the overdrive on the three-speed gearbox was electrohydraulically driven.
A large electric motor drove the system, whose network was carefully sandwiched inside the doubleskinned bodywork. With so much complexity, the Silver Bullet was plagued with problems. Soon plans were ditched, and Triumph turned to the simple TR2 sports car.