Surely the most extraordinary success story in the history of the automobile, the Beetle began life as a pet project of Adolf Hitler, who commissioned engineer Ferdinand Porsche to design a low-cost vehicle for the German people. Production eventually began post–World War II, under the British army then occupying much of Germany.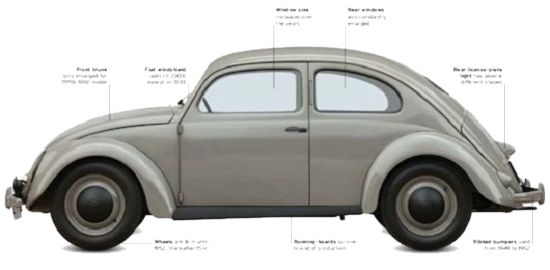 SPECIFICATIONS
Volkswagen Beetle, 1945–2003
Model Volkswagen Beetle, 1945–2003
Assembly Mainly Wolfsburg, Germany
Production 21,529,464
Construction Platform chassis, steel body
Engine 1,131 cc, air-cooled flat-four
Power 24 bhp at 3,300 rpm
Transmission Four-speed manual
Suspension All-independent by torsion bars
Brakes Drum
Maximum speed 70 mph (113 km/h)
Its manufacture lasted in Germany until 1978-or 1980 for the cabriolet-but continued in Latin America, latterly in Mexico, until 2003. In all, over 21 million Beetles were made, an all-time record for a single model. THE BEETLE was designed to be cheap to build, and suitable for road conditions in late 1930s Germany, even in the hands of inexperienced motorists. An air-cooled engine was mechanically simple, and meant the car could not boil over; a low power output assured reliability.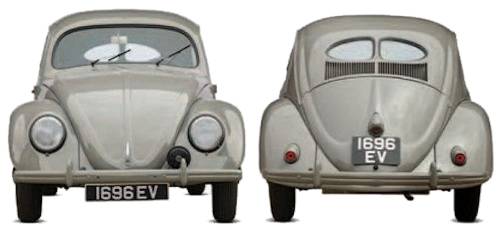 Positioning the engine at the back saved weight by eliminating the heavy axle and propshaft of a conventional rear-wheel-drive car, while the alloy engine kept weight down. Good aerodynamics meant easy cruising on Hitler's new autobahns, despite the engine's small size. Supple torsion-bar suspension and big wheels helped the Beetle cope with Germany's rough rural roads and cobbled town streets. Costs were kept down by using an unsychronized gearbox and cable brakes, features that continued on the rarely ordered base model until the early 1960s.
Evolution not revolution
This 1948 Beetle is a stripped-bare standard model, rather than the better-presented and much more common export model available from 1949. The basic Beetle style lasted to the end of production, with the laid-back headlamps only being replaced by more upright units in the facelift for 1968.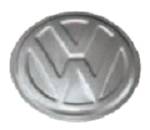 The name that survived Hitler
The Volkswagen, or "People's Car," was re-baptised the KDF Wagen, or "Strength-through-Joy Car," in 1938, in reference to the leisure division of the Nazi trade-union movement. When production began, the car went back to its original name.
Volkswagen Beetle 1945 interior
The Beetle's interior was never hugely spacious, nor was trunk space particularly generous-at least until the 1302 came along, with its luggage capacity increased by an impressive 85 percent. It was therefore useful that there was a deep trough behind the rear seat, whose backrest usefully folded forward. The dashboard was always sparse, with only the 1303 having a modern molded-plastic dashboard.
Volkswagen Beetle 1945 exterior
Ferdinand Porsche drew on 1930s streamlining trends to give the Beetle a smooth shape. This reduced fuel consumption and allowed for relaxed cruising on the new German motorways. Seen as old-fashioned at one stage, the Beetle was eventually regarded as timeless. It had only two significant restyles: in 1968, when the front was squared up; and in 1972, when the 1302 got a curved windshield to become the 1303.
Under the hood Volkswagen Beetle 1945
Originally a 985 cc unit, the air-cooled flat-four engine entered production after World War II with a capacity of 1,131 cc and a power output of 24 bhp. In 1954 the engine was enlarged to 1,192 cc. A new 1300 model was introduced for 1966, and was joined by a 1500 variant for 1967. In 1970 the 1,584 cc 1302S replaced this. The new engine had an output of 50 bhp-a modest figure true to the Volkswagen philosophy.