The Aurora wasn't quite the first experimental "safety" car. That accolade goes to "Survival Car 1", revealed in 1957, and bankrolled by the Liberty Mutual insurance company. Aurora was unveiled the same year but, in contrast, was fully-functioning (rather than a static exhibit). More importantly, the Aurora took careful account of pedestrian safety.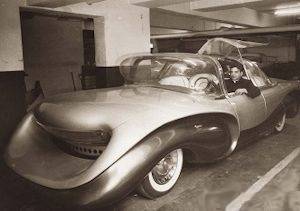 Aurora 1957
YEAR REVEALED 1957
PLACE OF ORIGIN Branford, Connecticut
HISTORICAL STATUS prototype
ENGINE V8-cylinder, 322ci (5,272cc)
MAXIMUM POWER 166bhp
LAYOUT front-mounted engine driving the rear wheels
BODYWORK four-door, four-seater sedan
TOP SPEED unknown
NUMBER BUILT one
This remarkable-looking car was the four-year project of a Catholic priest, Father Alfred Juliano of the Order of the Holy Ghost, with financial help from his congregation. His safety-first outlook led him to include seatbelts, side-impact bars, a collapsible telescopic steering column, and a curved, deeply-padded dashboard free of sharp projections.
The seats could be swiveled around in the face of an impending, unavoidable accident. The Aurora's tinted "Astrodome" roof had three thick, built-in roll-over protection bars. Reporters roasted the car's unveiling at Manhattan's Hotel New Yorker, but entirely missed the point because the bizarre plastic contours, with wheels, radiator grille, and lights tucked deep away, were meant to stop a pedestrian from sustaining injury in just about any accidental contact.
At a tentative US$12,000, it was almost as costly as the top Cadillac of the era; Father Juliano didn't receive a single order, despite offering a choice of power units. He was later forced to leave his church after allegations of misappropriating parishioners' cash and personal bankruptcy.