In the Wagoneer, the Sport Utility Vehicle (SUV) was crystalized. It was the first off-road vehicle with selectable four-wheel drive, purpose-designed to be just as suitable for cruising on highways.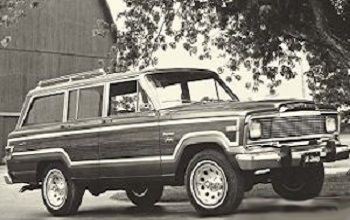 Willys Jeep Wagoneer 1962
YEAR REVEALED 1962
PLACE OF ORIGIN Toledo, Ohio
HISTORICAL STATUS production car
ENGINE six-cylinder, 230ci (3,769cc), V8-cylinder, 349ci (5,724cc)
MAXIMUM POWER 230bhp
LAYOUT front-mounted engine driving all four wheels
BODYWORK four-door, five-seater station wagon
TOP SPEED 85mph (137kph)
NUMBER BUILT unknown
The Wagoneer featured four doors. Its lofty bulk was cleverly masked by consultant designer Brooks Stevens, using visual tricks such as a waistline just below the side windows, slim window pillars, and suggestions of fenders and running boards pressed into the lower side panels. The high-riding car also included a brand-new straight-six engine-the only American overhead-camshaft unit at the time.
Here was a vehicle developed from the ground up, rather than being ultimately derived from the venerable war-time hero. The legendary Jeep go-anywhere ability and image had been skillfully folded into the classic US station wagon to appeal to the latent weekender in most Americans, without sacrificing creature comforts.
The Wagoneer, for instance, was the first off-roader with automatic transmission, and a choice of front suspensions: an independent set-up for leisure buyers most likely to be towing a trailer, or a solid front axle for heavy-duty off-roading. It was the world's first purpose-designed SUV and also became the longest-lived. Just six months after the Wagoneer was unveiled, the "Willys" name was ditched and Jeep became a marque in its own right. Despite frequent cosmetic makeovers, the Wagoneer remained a timeless icon until 1992.