Caught out by the fuel crisis of the mid-1970s, US carmakers simply did not offer the right cars. They could only look on aghast as economical Japanese imports snatched their sales.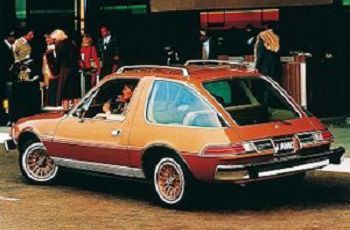 Amc Pacer 1975
YEAR REVEALED 1975
PLACE OF ORIGIN Kenosha, Wisconsin
HISTORICAL STATUS production car
ENGINE six-cylinder, 232/258ci (3,799/4,235cc) and V8-cylinder, 304ci 4, (980cc)
MAXIMUM POWER 130bhp
LAYOUT front-mounted engine driving the rear wheels
BODYWORK three-door, four-seater sedan and station wagon
TOP SPEED 104mph (167kph)
NUMBER BUILT 279,094
The panic to compete sired some terrible emergency products, such as the Ford Pinto, which developed a tendency to catch fire in rear-end collisions. The AMC Pacer, meanwhile, took a more considered approach, but its fate was, sadly, overtaken by events. "Project Amigo," begun in 1971, set out to create "the first Wide Small Car," keeping the roomy passenger compartment Americans liked but within a typical "European" length, and using a refined and compact Wankel rotary engine.
It was also planned to exceed all anticipated safety requirements; hence, the goldfish-bowl-like glasshouse for optimum all-round visibility, the reinforced barrel-shaped flanks, and the rollover bar incorporated into the roof. But things started to go wrong in 1974 when General Motors, scheduled to supply the power unit, axed its rotary engine program in the face of rocketing gas prices, reliability worries, and excessive emissions.
American Motors was forced to install its own straight-six, a heavy, bulky, and inefficient engine, which would saddle the Pacer with mediocre performance and fuel economy. Novel touches such as a hatchback, and rack-and-pinion steering, helped sales in 1976 to top 117,000, but thereafter orders collapsed despite station wagon and V8 engine options.