THE ACE WAS DESIGNED by William G. Henderson after he left the Henderson company in 1919. The new machine followed the style of the Henderson, with the i.o.e. engine mounted in line with the wheels. There was a three-speed, hand-operated gearbox, and final drive was by chain.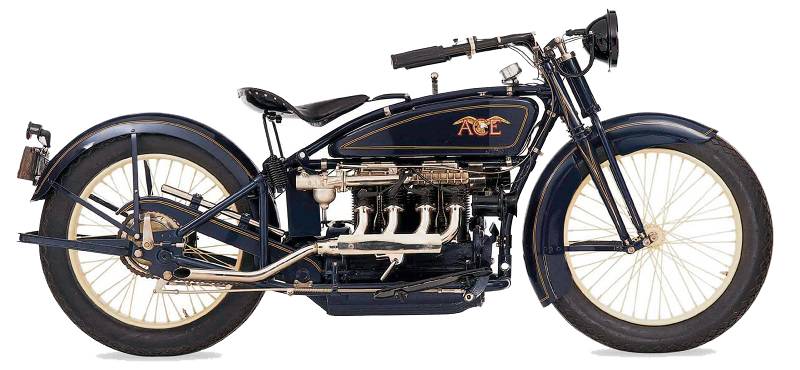 The front forks were a typical leading-link construction, but the Ace was considerably lighter than its opposition. Production models became available for 1920. Henderson was killed in an accident in 1922 and was succeeded as designer by Arthur O. Lemon. Unfortunately, production came to a stop late in 1924 when the firm hit financial difficulties and was bought by Indian; it marketed an Indian Ace until 1928.
| | |
| --- | --- |
| Model: | ACE |
| Capacity: | 1229 cc |
| Power output: | Not known |
| Weight: | 365 lb (166 kg) |
| Top speed: | Not known |
| Country of origin: | US |
Specifications ACE
MICHIGAN MACHINE

The motorcycle pictured here is one of the machines built by the Michigan Motors Corporation in 1926, before Indian acquired the manufacturing rights and production moved to Springfield, Massachusetts.